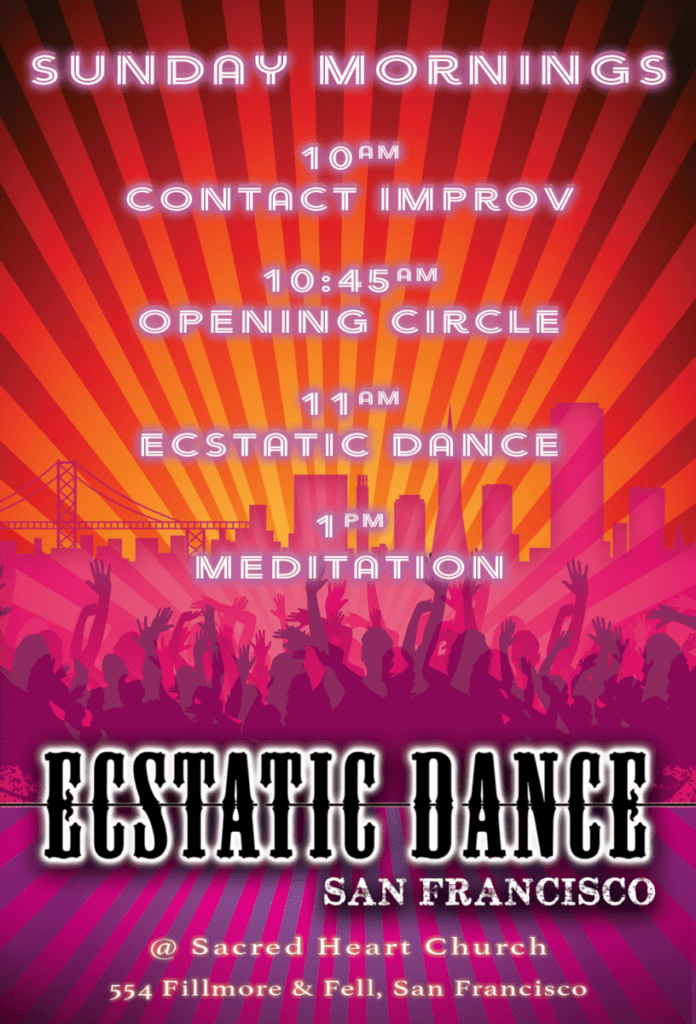 Ecstatic Dance San Francisco Sunday Mornings
Ecstatic Dance in SF @ Sacred Heart Church (of 8 Wheels)
Open Every Sunday:
Everyone is Welcome.
DJ & Contact Improv class Schedule:
.
May 28 – DJ: Mr. Blank (Ecstatic Dance Bay Area 15 Year Anniversary) – Contact Improv: Sebastian Grubb
June 4 – DJ: Twerkaba – Cocré Mindful Partner Dance: Wren LaFeet
June 11 – DJ: Roaming Sunshine – Contact Improv: Shannon Sahaja
June 18 – DJ: Yemanjo – Contact Improv: Bronwyn Ayla
June 25 – DJ: VOLO – Contact Improv: Shira Yaziv
July 2 – DJ: James Nasty (Baltimore)
July 9 – DJ: Vesica (Berlin) – Contact Improv: Shannon Sahaja
July 16 – DJ: MoonDrop – Contact Improv: Merrick Jacob
July 23 – DJ: Ean Golden – Contact Improv: Shannon Sahaja
July 30 – LIVE DRUMMING ECSTATIC DANCE w. Chris Berry & Shaman's Dream
Timing:
9:45am – Doors Open
10am – Contact Improv
10:50am – Opening Circle
11am – Ecstatic Dance
1pm – Sound Healing / Meditation
1:11pm – Good Day!
Tickets at the Door:
$25 Drop-In
$20 Passes will be available if you purchase 5 Passes. ($100)
Advanced 1x passes will also be available on Eventbrite
Kids are free!
Also, Dance for Free on your Birthday Week!
(just let us know at the door)
Thursday Night SF Ecstatic Schedule
554 Fillmore St, San Francisco, CA 94117, USA
Ecstatic Dance – 3 Simple Guidelines
1. We Dance without shoes (or: We Dance Barefoot)
This allows us to connect more fully with the Ground (socks are OK)
If you have a physical condition that you need dance shoes, then OK
2. We Dance without words (or: We Dance with Body Language)
This makes it easier to be in a Meditative State
No Verbal Instruction from the Facilitators
No Talking from the Dancers
(You may whisper quietly on the mats or benches in the back, IF no one else can hear you from the Dancefloor.)
3. We Dance as We Are
No Drugs/Alcohol, No Phones, No Camera/Video, No Scents, No Expectations, No Judgements, No Shoulds, No Oughts… Just Be Yourself; With Respect for Ourselves, the Space, and One Another.