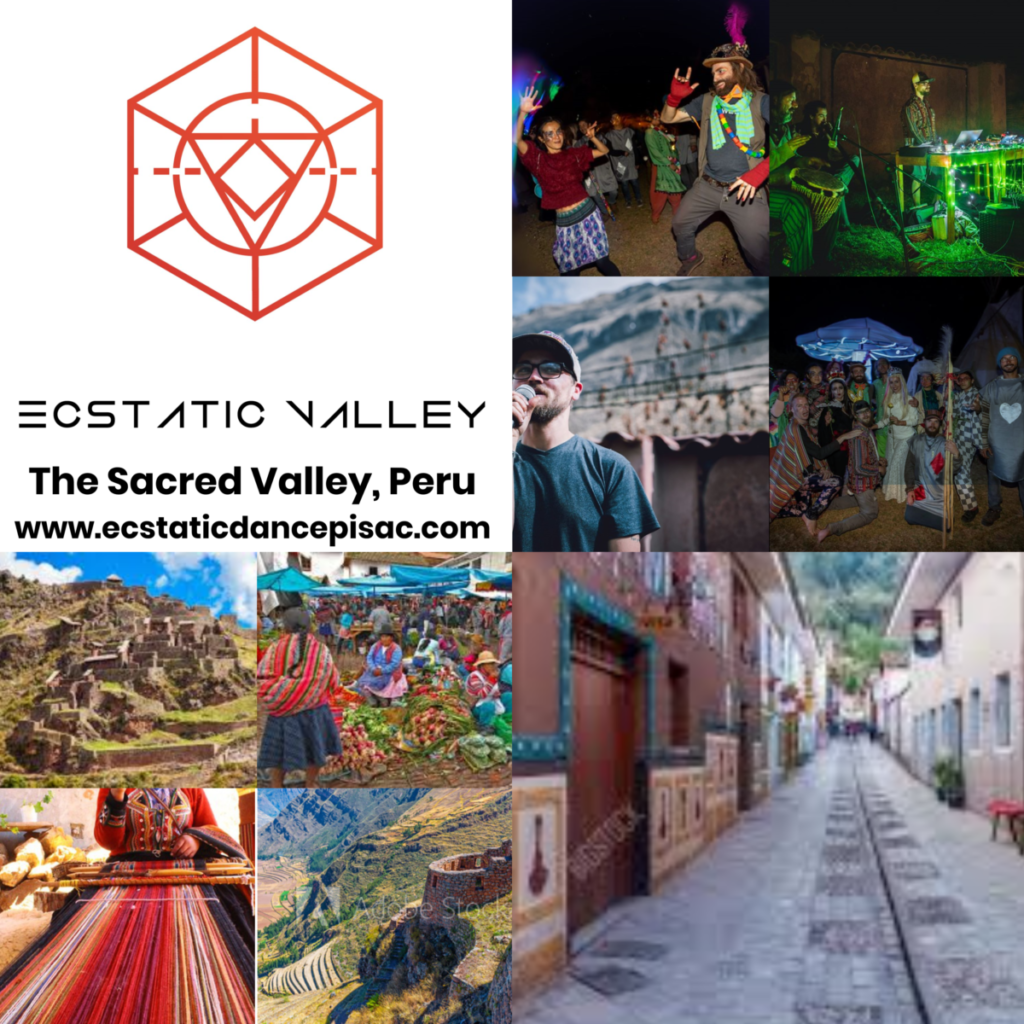 Ecstatic Dance Pisac, Cusco, Peru
Welcome to Ecstatic Dance Pisac!
Founded/Hosted/Facilitated by Justin "DocZion" Reynolds, Dawid "RAQ" Rakowski  and Nic "Promethius" Demuth of Alchemica, where we host the dances.
We are seated in The Sacred Valley of The Incas, just outside of Cusco. We invite you to come let free and be yourself! We are blessed to able to offer Ecstatic Dance in such a special place.
Our dance is a Cacao Ecstatic Dance, using this sacred medicine to help others unlock the magic of EDance. We do a back to back set to follow so that a lot of our of regulars can come a bit later to just experience the dancing! Last, we always close the space with some kind of exercise/sound healing, and followed by a sharing/integration circle. Come see why The Sacred Valley is so special!
Follow us on Facebook and Instagram @ecstaticvalley to see a range of events to include; Sunset Gatherings, Conscious Dances/Parties and our beloved EDance, more to come as we grow!
See you in Peru. 🙂
You can find us at Alchemica on the main road(Ave. Amazonas) next to the Cusco collectivo station(At the end of the road from Ulrike's Café)
---
We are so excited to be joining the Virtual Dance Community and sharing the beauty of The Sacred Valley of Peru with you.
https://web.facebook.com/events/1560853317411702/
DocZion will be guiding us from his rooftop with beautiful Incan ruins and mountains in the background, you'll get to enjoy the beauties of Peru! ♥
Schedule:(All times are in Peru)
12pm-12:30pm Welcome and warm up dance tunes
12:30pm-1pm Yoga with Adrianna out of Lima, Peru
1pm-1:15pm Opening Circle
1:15pm-4:15pm Ecstatic Dance with DocZion, from San Francisco, living in Pisac, and a special guest TBA
4:15pm-4:30/40pm Sound Healing with Brady Williams from The U.S., jamming with us here in The Valley for many months now, closing our normal Sunday Dances. Beautiful touch and soul ♥
4:30pm-5:15/30pm Closing Sharing and Integration circle, followed by social time.
Join us from your homes and open your hearts!
To receive the Zoom link, just mark yourself as going and we will send you the link before the event.
Be sure to join us here n Peru post Quarantine for weekly Ecstatic Dances and other conscious dance events, follow us to stay up to date with what we are creating here,
See you at the dance ♥
Much Love,
-Doczion 🙂
Founder/Host/Facilitator/DJ
Ecstatic Valley
Ecstatic Dance Pisac
www.ectstaticdancepisac.com
ecstaticvalley@gmail.com | docziondance@gmail..com
@ecstaticvalley | @docziondance/@doczion
on Facebook, Instagram, Soundcloud and Spotify ♥
P.S. Be sure to check the event discussion for updates as the event grows. We will be posting regularly in the discussion to announce things, start a community discussion, share and much more. Take a look for yourself.
P.P.S. If you feel called, and can, donate to this dance, donations will be fairly distributed to the Yoga Instructor, DJ, Sound Healing, and the rest will go to help keep our building open. Since we have been in quarantine for 4 week, and 2 more(possible more) to go, it has been challenging on the Budget of our partners Alchemica. We want to give back and help keep these doors open. We want to see our partners doing well and thriving still, anything helps us reach our goal!
You can donate using PayPal @ justinreynolds132(at)g-mail(dot)com or using GoFundMe.
Thank you for the love and support during this transition. <3 
https://www.gofundme.com/f/ecstatic-dance-pisac-cusco-peru?utm_source=customer&utm_medium=copy_link&utm_campaign=p_cf+share-flow-1
Find us on our newly made SoundCloud:
https://soundcloud.com/ecstaticvalley/
Amazonas 116 Pisac, Cusco, Peru 08106
S/.30 (S/.20 for Residents)

DocZion & Arif
April 20, 2020
Online Zoom EDance | 12-5pm See above for link to the event

DocZion & Biggie
April 27, 2020
Online Zoom EDance | 12-5pm See above for link to the event
Ecstatic Dance – 3 Simple Guidelines
1. We Dance without shoes (or: We Dance Barefoot)
This allows us to connect more fully with the Ground (socks are OK)
If you have a physical condition that you need dance shoes, then OK
2. We Dance without words (or: We Dance with Body Language)
This makes it easier to be in a Meditative State
No Verbal Instruction from the Facilitators
No Talking from the Dancers
3. We Dance as We Are
No Drugs/Alcohol, No Phones, No Camera/Video, No Scents, No Expectations, No Judgements, No Shoulds, No Oughts… Just Be Yourself; With Respect for Ourselves, the Space, and One Another.