Ecstatic Dance Ibiza Tribe
Dance, connect, express, play, laugh, cry, create… Life is movement, beat, music, Tribe… Life dances inside you.
Ecstatic Dance is an open and safe space where, guided through music, you are invited to explore your own movement, the stillness and the different rhythms that are already inside you… It is truly a beautiful way to celebrate life in our bodies.
Dancing barefoot, in silence and embracing each other in the dance. Feeling free to connect or dancing alone whenever you want. No shoes, No words, No judgments, only respect and freedom
It is a safe space where you are invited to let go of expectations and to immerse yourself in a journey through your dancing mind, body, heart and soul…Welcome!
We warmly invite you to join our Ecstatic Dance Ibiza Tribe every sec0nd Saturday of each month from 18 to 21:30h for a transformational & nurturing dancing experience in Ibiza island (Spain).
More Info at our website http://www.ecstaticdanceibiza.com or Facebook page: https://www.facebook.com/ecstaticdanceibizatribe
✦✦ Energy exchange✦✦
Presale: 20€ or 20 ecos
At the door: 22€ or 22 ecos
✦✦ Bring ✦✦
We recomend you to bring drinking water, comfortable clothes, socks and a blanket for the cooling down.
◀︎◀︎ ECSTATIC DANCE GUIDELINES ▶︎▶︎
1. Move however you wish, while respecting the space of those around you.
2. Respect yourself and one another.
3. Dance barefoot (If you wish to protect your feet, we recommend you to bring socks or to use dance, non-street shoes).
4. Ecstatic Dance is a non-verbal communication space so please don't talk on the dancefloor: Conversation & mobile phone use outside the dance space .
5. Ecstatic Dance is a drug, smoke & alcohol free space.
6. Please also refrain from taking photos or videos during the dance.
◀︎◀︎ STAY CONNECTED ▶︎▶︎
Follow our Ecstatic Dance Ibiza Tribe Facebook page
Find us on Instagram at @ecstaticdanceibizaisland
Fill in your contact details in our mailing list sheets at our dance space reception desk.
♡ From the inspiration and with our deep gratitude, respect and support to Ecstatic Dance International Community: www.ecstaticdance.org ♡
Second Saturday of each month
near Ibiza town, Ibiza island - Balearic islands, Spain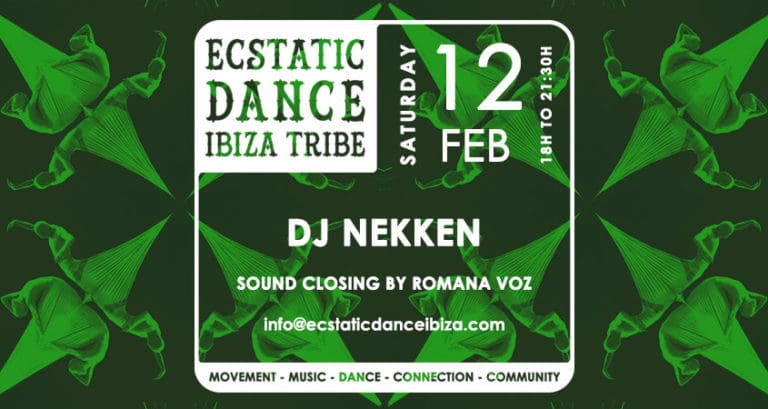 Dj Nekken
February 12, 2022
Ecstatic Dance – 3 Simple Guidelines
1. We Dance without shoes (or: We Dance Barefoot)
This allows us to connect more fully with the Ground (socks are OK)
If you have a physical condition that you need dance shoes, then OK
2. We Dance without words (or: We Dance with Body Language)
This makes it easier to be in a Meditative State
No Verbal Instruction from the Facilitators
No Talking from the Dancers
3. We Dance as We Are
No Drugs/Alcohol, No Phones, No Camera/Video, No Scents, No Expectations, No Judgements, No Shoulds, No Oughts… Just Be Yourself; With Respect for Ourselves, the Space, and One Another.