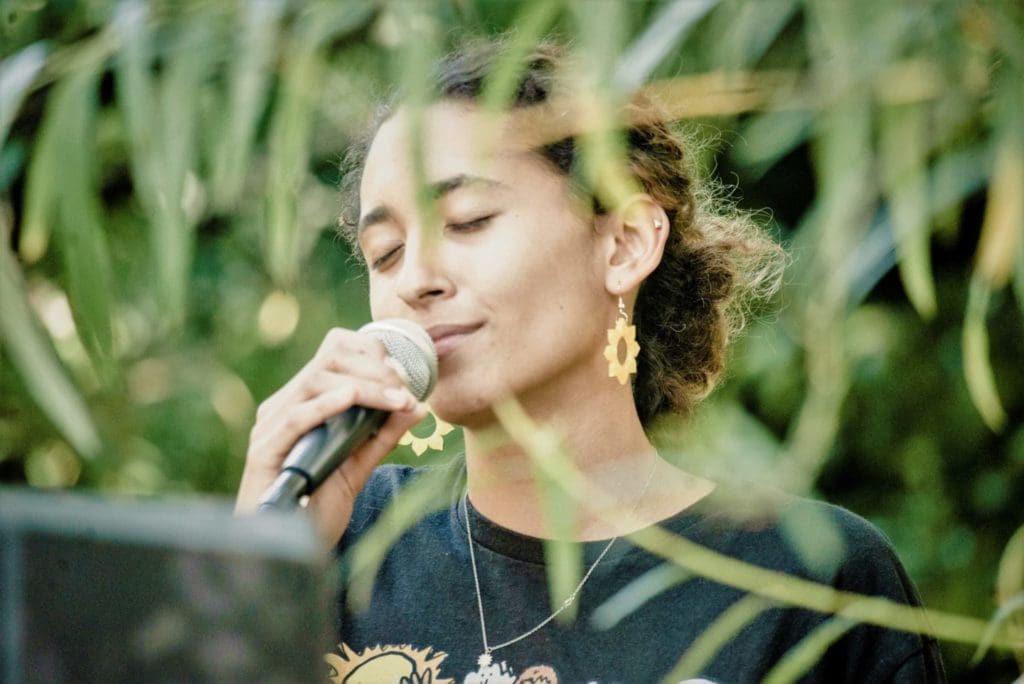 Wild Beats Sensory Session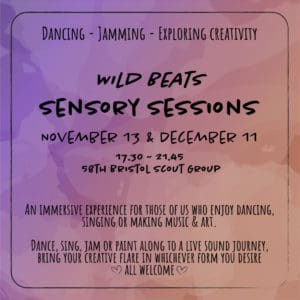 Dear fellow humans! We welcome you to a fushion of music, movement & art…
For few hours each month we will come together to create an environment where we can unleash our true selves and enjoy a sensory experience.
Our indoor sessions will be a friendly space where one can immerse themselves in music, dance, art and song. Unlike our outdoor ecstatic dances the vision is to bring synergy of the many art forms; we encourage people to bring instruments with them and to chime in with the music, if this instrument is your voice this is also welcome! There will be a selection of instruments to use, as well as a microphone set up for vocalists or anyone who wishes to brave using their voice.
~ DANCE ~
We will be dancing under candle light & UV light while immersed in beautiful scents and eclectic sounds. We welcome you to come just as you are, to be open to playfulness & diving deep into the evening with your bodies and all their wonderful functions, as well as connecting with those around you.
To immerse fully into the experience of dance and embodiment, we ask that guests arrive sober, dance without judgement, shoes, speaking and phones. This allows us to be deeply connected to the music and to one another's body language.
~ ART ~
There will be a communal art piece which all are welcome to participate in, please feel free to bring your own paints/brushes/pens/pencils – though we will have supplies for you to share.
~ SPACE ~
As always, we will have an altar and a chill space, you are welcome to add anything to the altar or bring your own cushions and blankets to make the space even cosier.
Our Generosity Café will have tea's, snacks and cakes on offer for participants to help themselves to, please bring cash to donate to this, it is run on donations and the money we make supports PsyCare UK; a charity we have a close affinity with.
You are also welcome to bring any homemade goodies to add to the table, for people to enjoy over the course of the evening.
~ JAM SESSION ~
Our jam sessions are open to all, even if you don't consider yourself to be a musician! We all have our place in a jam even if it is just humming along or jingling your keys. The jam is acoustic only, to keep neighbours happy! If you are a practicing musician we encourage you bringing your own instruments.
~ Schedule ~
17.30 Arrive and settle
17.45 Opening circle & ice breakers
18.00 Dance Journey with Miss Melodi
19.30 Sound healing with Journey 2the1 & Wild Echo
19.45 Closing circle
20.00 Jam session
21.45 End
12.50 or 15.50 if you join the jam session
Ecstatic Dance – 3 Simple Guidelines
1. We Dance without shoes (or: We Dance Barefoot)
This allows us to connect more fully with the Ground (socks are OK)
If you have a physical condition that you need dance shoes, then OK
2. We Dance without words (or: We Dance with Body Language)
This makes it easier to be in a Meditative State
No Verbal Instruction from the Facilitators
No Talking from the Dancers
3. We Dance as We Are
No Drugs/Alcohol, No Phones, No Camera/Video, No Scents, No Expectations, No Judgements, No Shoulds, No Oughts… Just Be Yourself; With Respect for Ourselves, the Space, and One Another.