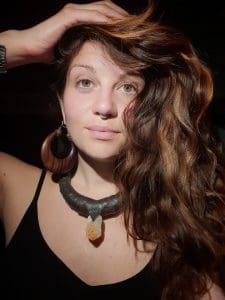 Jessi is the founder of Wild Beats Community, a community music and dance organisation hosting Ecstatic Dance's in Bristol. Coming from 8 years of events experience, she plans to take all the best bits of what's been learnt along the way and offer it to the Wild Beats community.
Miss Melodi (aka Jessi) is a self-taught DJ with a wide music taste.
Expect to hear music ranging from funky melodies, psychedelic inspired sounds, diverse world music and the occasional classic banger.
With a playful energy she hopes to bring out the inner child in her dancers, while holding a relaxing space where people will feel comfortable enough to find their personal flow.
Fresh into the DJ scene, Miss Melodi is a self taught DJ with a passion for making mixes which make booties wiggle and smiles light up.
Miss Melodi is the resident DJ for Wild Beats events, a brand new, grass roots organisation in the South West of England.