Sol Dance is a free-form movement experience where all bodies are welcomed. We offer a 2-hour, guided musical journey meant to be experienced in its entirety. The music will be meticulously curated by Sol Dance's resident DJs alongside talented percussionists & sound-healers – generally not limited to only one genre. You can expect a culturally-diverse blend of electronic and acoustic sounds, skillfully attuned to the energy of the group.
We begin with an opening meditation and move into deeper, slower sounds, the bpm & energy peaks in the middle, and is finally brought back down, closing with meditative sound healing and a gratitude circle. We invite you to gift yourself the complete experience from start to finish!
3214 Brainerd Rd, Chattanooga, TN 37411
$20 adults, free for kids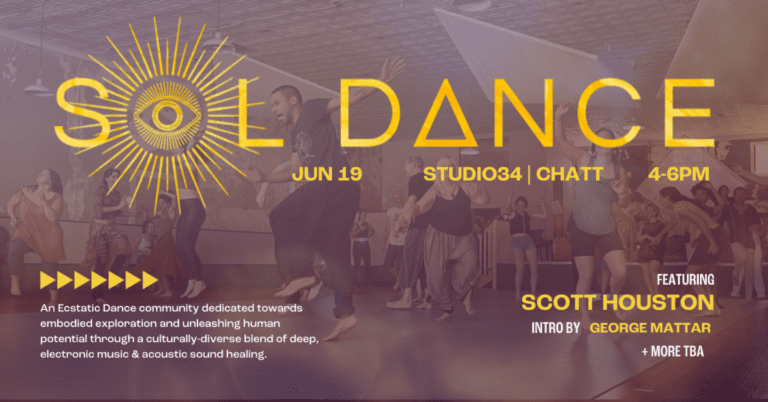 Scott Houston
June 19, 2022
Ecstatic Dance – 3 Simple Guidelines
1. We Dance without shoes (or: We Dance Barefoot)
This allows us to connect more fully with the Ground (socks are OK)
If you have a physical condition that you need dance shoes, then OK
2. We Dance without words (or: We Dance with Body Language)
This makes it easier to be in a Meditative State
No Verbal Instruction from the Facilitators
No Talking from the Dancers
3. We Dance as We Are
No Drugs/Alcohol, No Phones, No Camera/Video, No Scents, No Expectations, No Judgements, No Shoulds, No Oughts… Just Be Yourself; With Respect for Ourselves, the Space, and One Another.