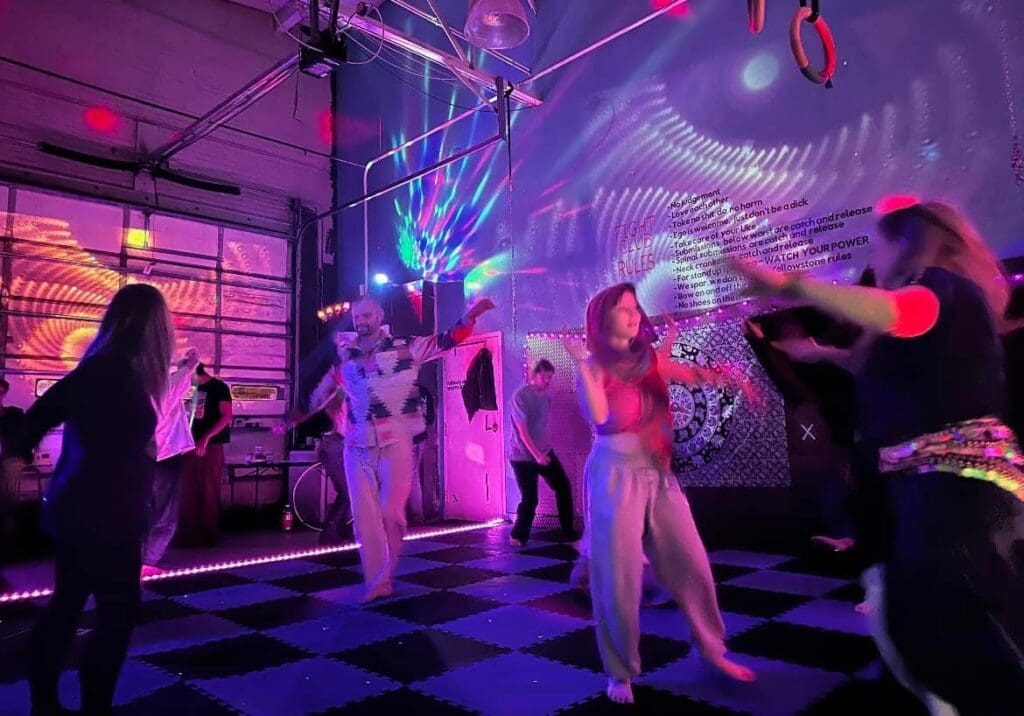 Flow Dance Colorado Springs
Flow Dance Colorado Springs aka "Ecstatic" Dance is a free form dance event with the goal of achieving ecstasy through engaging the senses and connecting to one's flow state. This is a natural state in which one's awareness may shift and experience a meditative and happy or peaceful state of mind through physical movement. Free flow and creative dancing promotes health, wellness, a spiritual connection, and it's a lot of fun!
Kick off your shoes, and enjoy a safe space to dance without conversations on the dance floor, drinking and the nightclub vibe. This is about getting great exercise, freeing your mind and listening to your body, mind, and heart to connect with yourself and others in a holistic way.
Flow "Ecstatic" Dance empowers people of all shapes, sizes, backgrounds and ethnicities to freely express themselves. The liberating atmosphere creates a melting pot of acceptance and fearlessness and seeing other people flow gives all those who participate permission and courage to dance without inhibition.
Families and all ages are welcome to join in on the celebration at each dance since they are professionally hosted and the music is family friendly. We are all encouraged to bring out our inner child while expressing ourselves!
Our event details::
Our dance events begin at 7pm with an opening circle to check in and go over basic information for the night, including methods to use dance as a form of medicine. We then start with a warm-up flow involving movement with the guidance of an instructor. After that, and at about 7:30, we break free into dancing until at least 10 depending on the dj and crowd. The music then slows down at the end and we transition into meditative sound sometimes accompanied by singing bowls and other instruments, and voices. As we gather into a closing circle, we may express our gratitude and share our experiences with one another about the event.
Admission into Flow Dance is an entry of $10 which can be paid at the door with cash, or Venmo.
If you are interested in being a part of the Flow Dance Team, either by performing as a DJ, live painter, flow art performer, vendor, or production member, or have any questions about our events, please contact us on our Facebook page or at: flowdancecos@gmail.com.
7 E Cimarron St Colorado Springs, Co 80903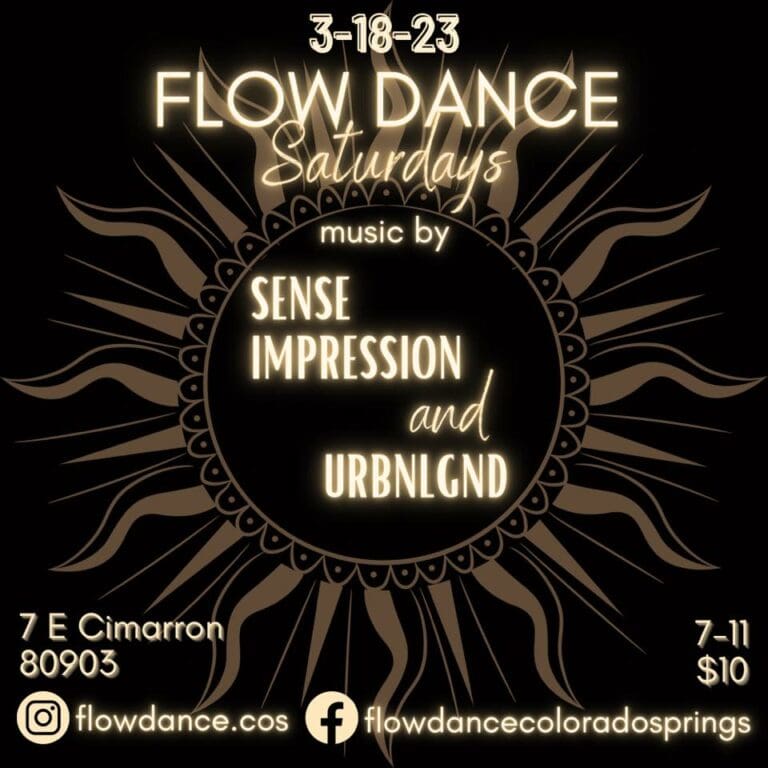 Sense Impression and urbnLGND
March 18, 2023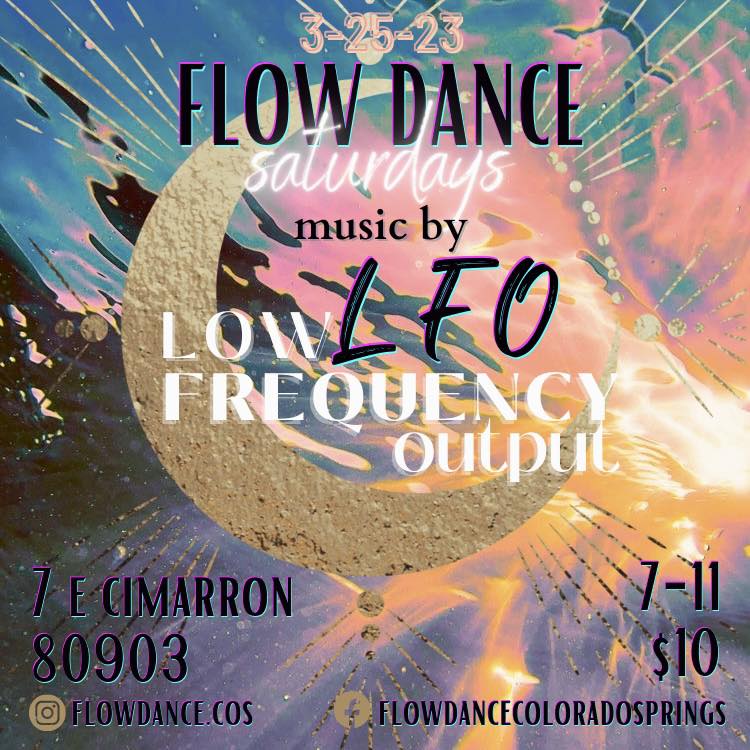 Low Frequency Output
March 25, 2023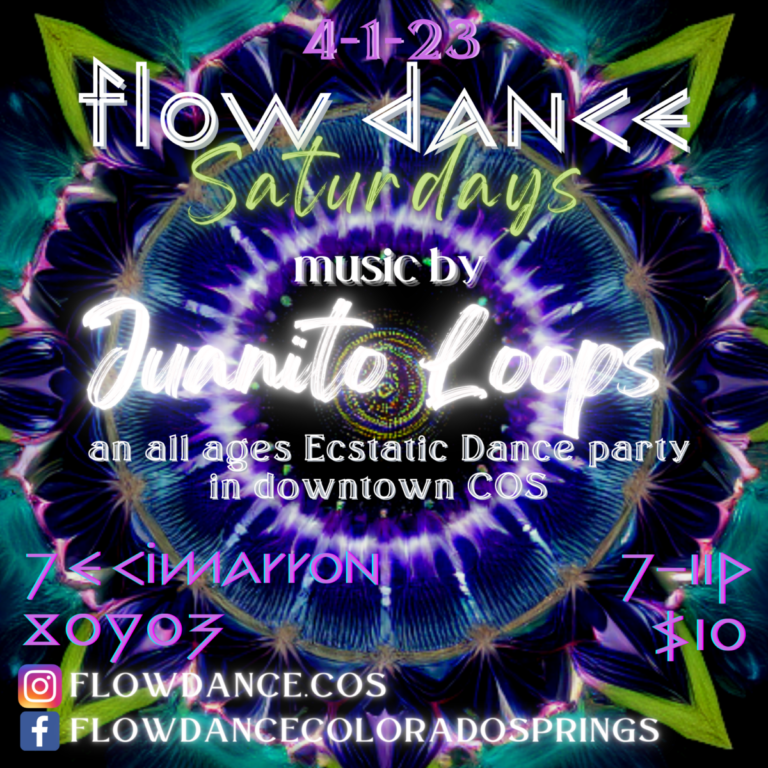 Juanito Loops
April 1, 2023
DJ Chiasmus
April 22, 2023
Ecstatic Dance – 3 Simple Guidelines
1. We Dance without shoes (or: We Dance Barefoot)
This allows us to connect more fully with the Ground (socks are OK)
If you have a physical condition that you need dance shoes, then OK
2. We Dance without words (or: We Dance with Body Language)
This makes it easier to be in a Meditative State
No Talking on the dance floor. A social space in the hallway is available.
3. No Alcohol, No Smoking, Plant medicine only, No Expectations, No Judgements, No Shoulds, No Oughts… Just Be Yourself; With Respect for Ourselves, the Space, and One Another.