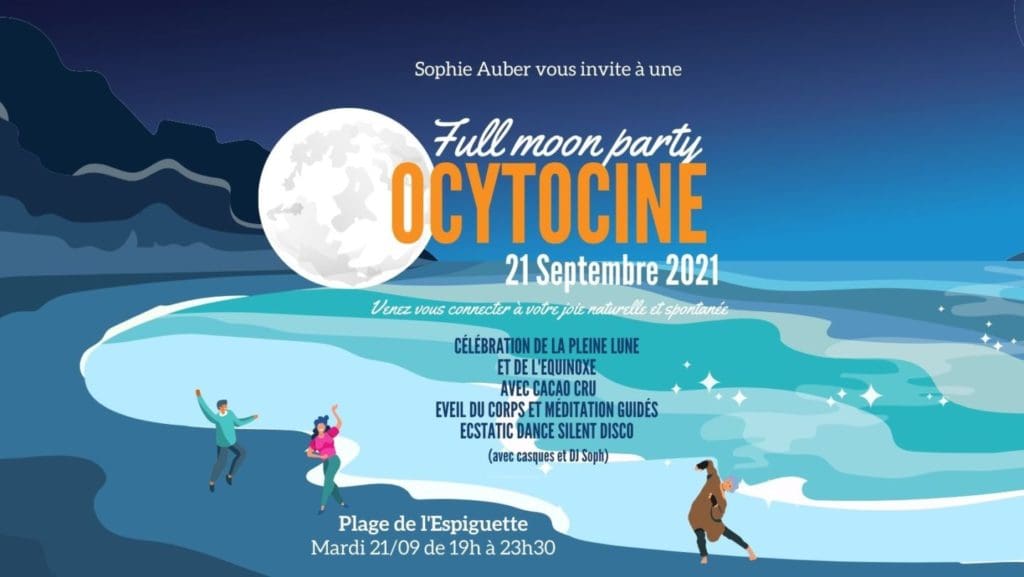 Ecstatic Dance Ocytocine on the beach
Rejoins moi pour cette 4ème soirée Ocytocine sur la plage pour célébrer la pleine lune et l'équinoxe d'Automne le Mardi 21 Septembre de 19h à 23h30.
Célébration de la pleine lune avec cacao cru – Méditation guidée, éveil du corps et de l'onde de vie – Ecstatic dance en mode Silent disco (avec chacun son casque et un mix de DJ Soph)
Une soirée pour vous connecter à votre corps, votre coeur et à votre joie naturelle et spontanée dans un lieu magique les pieds dans le sable, face à la mer, le coucher du soleil, le lever de lune et avec les éléments!
Pour cette soirée de pleine lune, je vous propose de commencer par un cercle de célébration; un temps de partage, de connexion où chacun pourra poser ses intentions pour cette danse et ce nouveau cycle, avec une boisson au cacao cru et un délicieu gateau cru (préparé pour vous par mes soins).
Il vous sera ensuite remis chacun votre casque et nous enchainerons par une méditation guidée, un éveil du corps et de l'onde de vie.
Un moment tout en douceur pour être pleinement là dans votre corps et dans la présence à l'onde de vie qui vous anime, la laisser vous bouger et explorer comment être en mouvement sans effort mais dans le simple plaisir d'être traverser par la vie!
De là vous partirez dans l'Ecstatic Dance en mode silent disco facilité par Sophie/DJ Soph dans un espace bienveillant où vous pourrez vous lâcher en toute sécurité, laisser votre corps, vos mouvements se délier, vous laisser être dansé par le mouvement de la vie et surtout prendre plaisir à être là tout simplement en présence avec vous et les autres le cœur ouvert. Le tout à ciel ouvert les pieds dans le sable avec la lumière de la pleine lune et des casques!
Nous clôturerons avec un temps de partages tous ensembles pour terminer vers 23h/23h30
Venez nous rejoindre pour cette soirée et célébrons ensemble la joie d'être vivant et libre!
Tarif de la soirée: 30€ – Places limitées.
Pour vous inscrire et réserver votre place et casque:
Pour toutes infos merci de contacter Sophie par mail sophie@pourlamourdesoi.fr
Le lieu de rendez vous sera communiqué à votre inscription.
For every full moon on the beach l'Espiguette near Le Grau du Roi
Grau du Roi - Plage de l'Espiguette,- Parking les Baronnets
Ecstatic Dance – 3 Simple Guidelines
1. We Dance without shoes (or: We Dance Barefoot)
This allows us to connect more fully with the Ground (socks are OK)
If you have a physical condition that you need dance shoes, then OK
2. We Dance without words (or: We Dance with Body Language)
This makes it easier to be in a Meditative State
No Verbal Instruction from the Facilitators
No Talking from the Dancers
3. We Dance as We Are
No Drugs/Alcohol, No Phones, No Camera/Video, No Scents, No Expectations, No Judgements, No Shoulds, No Oughts… Just Be Yourself; With Respect for Ourselves, the Space, and One Another.