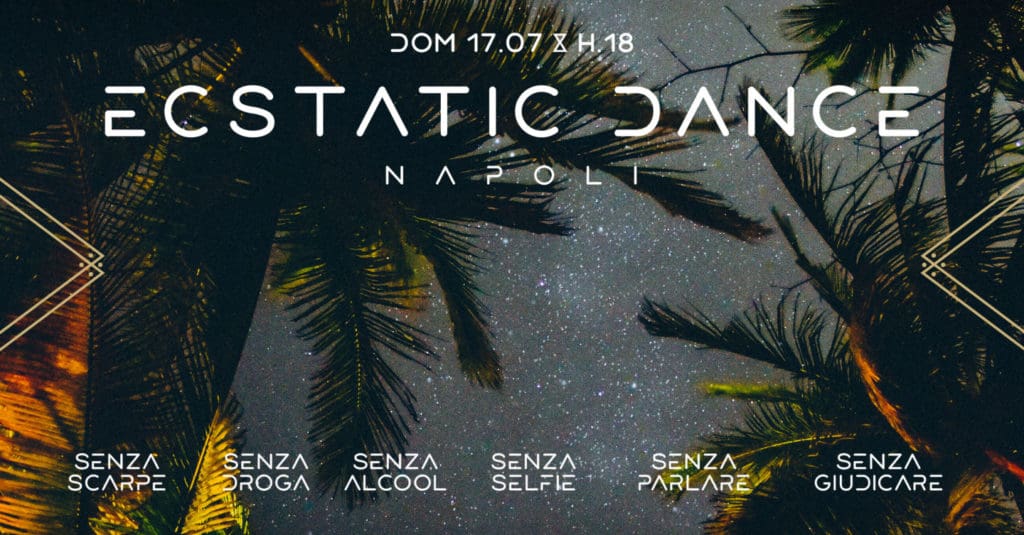 [Italiano in calce – Español abajo]
Welcome to our SILENT Ecstatic Dance in Naples 🙂
NEXT DANCE: SUN 17 JULY 2022 6PM to 9 PM
A grounding ceremony guided by our facilitator helps you enter the proper state to connect with sound. The session is selected and mixed by INNERGARDEN, who build the journey with different types of music to touch all the emotions.
Booking is mandatory. Please make sure you follow these 2 steps:
Text your name (WA, Telegram or Text msg) to: +44 7473 034571
Wait for a confirmation about availability
Pay via PayPal.
€15 Early Bird [until 6th july]
€20 Regular
Our Program
6:00PM Open Doors
6:15 Opening Circle
6:20 Grounding Ceremony
6:45 Dance
8:45 Closing Circle
Please, wear comfortable clothes, feel free to bring your yoga mat, if you want to dance on it and/or feel more comfortable to lay on it at the end of the session.
---
[Español]
Bienvenid@s  a nuestra Ecstatic Dance en Napoles. Al principio, una ceremonia dirigida por una facilitadora ayuda a entrar en el estado apropiado para conectarse con el sonido.
La sesión es mezclada por INNERGARDEN, un Dj que construye el viaje con música de muchos tipos diferentes para tocar todas las emociones.
Para participar es necesario reservar:
Envíanos un mensaje (Whatsapp, Telegram o Sms) al +39 328 876 7844
Espere una confirmación sobre la disponibilidad.
Pagar con PayPal.
€15 Early Bird [hasta el 6 de julio]
€20 Regular
Nuestro Programa
18 hr. Puertas Abiertas
18:15 Circulo de apertura
18:20 Enraizamiento
18:45 Danza
20:45 Circulo de cierre
Sugerimos traer ropa cómoda. Por favor siéntate libre de traer tu esterilla de yoga, si deseas sentirte aún más cómodo al final de la sesión.
________________________________
[Italiano]
Benvenuti alla nostra SILENT Ecstatic Dance a Napoli. All'inizio, una cerimonia guidata da una facilitatrice aiuta ad entrare nello stato giusto per connettersi con il suono.
La sessione è mixata da INNERGARDEN, un DJ che costruisce il viaggio con musica di molti tipi diversi per toccare tutte le emozioni.
Per partecipare è necessario prenotare:
Inviaci un messaggio (Whatsapp, Telegram o Sms) al numero +39 328 876 7844
Verifica la disponibilità e paga con PayPal.
€15 Early Bird [fino al 6 luglio].
€20 regolare
Il nostro programma
18:00 Porte aperte
18:15 Cerchio di apertura
18:20 Radicamento
18:45 Ballo
20:45 Cerchio di chiusura
Vi suggeriamo di portare vestiti comodi. Sentitevi liberi di portare il vostro tappetino da yoga, se volete sentirvi ancora più a vostro agio alla fine della sessione.
Two weekends every month, basically a saturday and a sunday
Ecstatic Dance – 3 Simple Guidelines
1. We Dance without shoes (or: We Dance Barefoot)
This allows us to connect more fully with the Ground (socks are OK)
If you have a physical condition that you need dance shoes, then OK
2. We Dance without words (or: We Dance with Body Language)
This makes it easier to be in a Meditative State
No Verbal Instruction from the Facilitators
No Talking from the Dancers
3. We Dance as We Are
No Drugs/Alcohol, No Phones, No Camera/Video, No Scents, No Expectations, No Judgements, No Shoulds, No Oughts… Just Be Yourself; With Respect for Ourselves, the Space, and One Another.