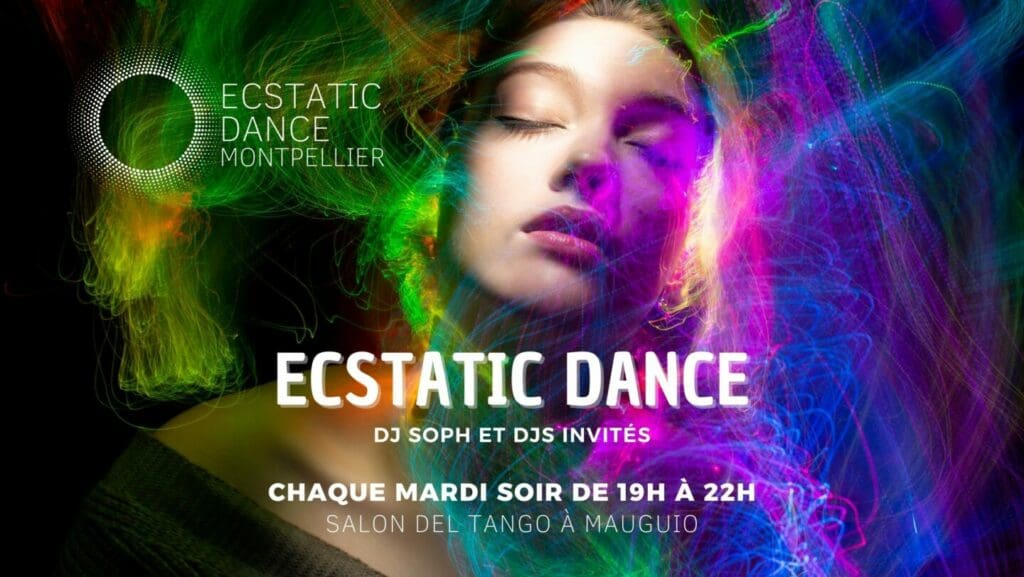 Ecstatic Dance Montpellier
Chaque Mardi soir de 19h à 22h30
à l'espace Salon Del Tango à Mauguio
66 RUE LÉON MORANE ZA FREJORGUES-OUEST /
AEROPORT MONTPELLIER MEDITERRANEE,
34130 MAUGUIO.
Tram
Ligne verte n°3 direction Lattes/Pérols/Etang de l'or.
ARRÊT: BOIRARGUES ou ÉCOPÔLE (10mns à pieds)
… dans une grande et belle salle de 220m2 avec une bonne sono, plein de places de parking (gratuit), tram proche (20mns à pieds).
Programme pour ce début de trimestre:
Je suis entrain de faire le planning de ce trimestre pour que vous puissiez goûter à différents univers, couleurs, ambiances avec différents DJs d'Ecstatic Dance venant d'autres villes et peut être même d'autres pays. (Une ou deux fois par mois je pense). Je serai la DJ résidente et gardienne de l'espace pour chaque session.
Au moins une fois ou deux dans le trimestre je prévois de proposer une soirée 'Conscious Clubbing' plus longue (jusqu'à minuit) avec une Ecstatic dance puis une fin de soirée plus festive avec un autre DJ, un bar de boissons sans alcool, des encas sains et délicieux, un espace chill out et d'autres surprises!
J'ai l'envie et le souhait de vous offrir un espace accueillant, bienveillant et tout doux, un espace où vous pourrez vous sentir libre d'être vous, bienvenu.e tel.le que vous êtes dans votre authenticité du moment, un espace unifié dans le coeur, sans jugement que nous créerons tous ensemble pour lâcher prise et goûter à la joie et au plaisir d'habiter pleinement votre corps et de le laisser vous guider dans le mouvement (ou non mouvement) juste et bon pour vous!
La séance se déroulera, en général, comme suit:
Arrivée et accueil en musique entre 18h45 et 19h15
Merci d'arriver à l'heure, nous démarrerons à 19h15
– Un cercle d'arrivé et d'intentions
– Une méditation du coeur (avec cacao certaines sessions)
– Une mise en corps guidée
– L'Ecstatic Dance accompagnée en live par le voyage musical du DJ
– Un voyage sonore ou autre proposition de fin
– Un cercle de clôture et de partage
Je me réjouis de vous y retrouver chaque mardi soir.
La session pourra se réserver en ligne au tarif de 20€ (ci-dessous),
ou sur place au tarif de 25€
et possibilité aussi de prendre une carte de 5 séances pour 85€ (valable 1 trimestre et à prendre sur place, une carte vous sera remise et cocher à chacune de vos venues.)
Il n'y aura pas de sessions pendant les vacances scolaires.
Pour toutes infos merci de contacter Sophie au 06 23 18 78 49
pour réserver votre place:
https://ecstaticdanceocytocine.fr/Ecstatic-Dance-Montpellier.html
El Salon del Tango, 66 rue Léon Maurane, 34130 Mauguio/Montpellier
20€ online 25€ son the door
DJ Matt Jah
Ceremny leader Stéphanie Lopez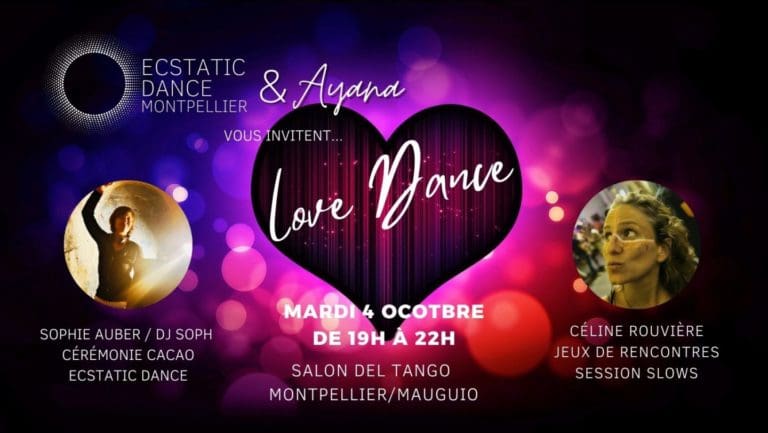 DJ Soph
Love Dance avec Céline rouvière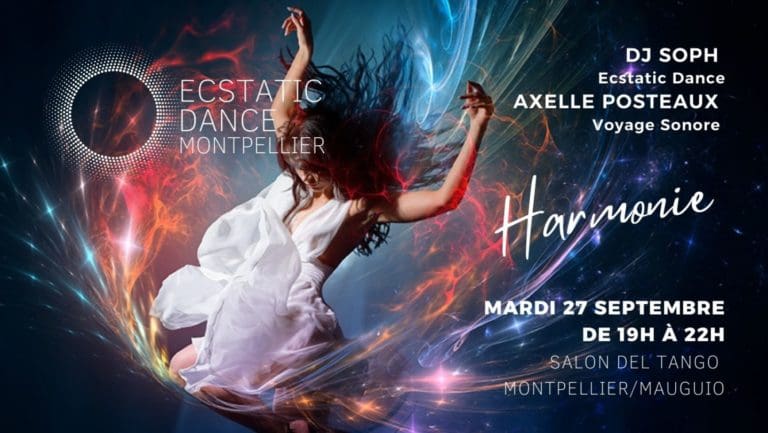 DJ Soph
Voygage sonore avec Axelle Posteaux
Ecstatic Dance – 3 Simple Guidelines
1. We Dance without shoes (or: We Dance Barefoot)
This allows us to connect more fully with the Ground (socks are OK)
If you have a physical condition that you need dance shoes, then OK
2. We Dance without words (or: We Dance with Body Language)
This makes it easier to be in a Meditative State
No Verbal Instruction from the Facilitators
No Talking from the Dancers
3. We Dance as We Are
No Drugs/Alcohol, No Phones, No Camera/Video, No Scents, No Expectations, No Judgements, No Shoulds, No Oughts… Just Be Yourself; With Respect for Ourselves, the Space, and One Another.