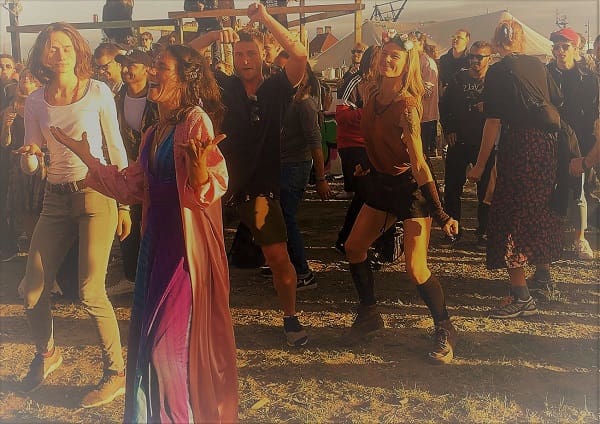 This outdoor 2,5 hours dance event is an invitation to approach the dance as a moving meditation, a way to sweat your prayers and celebrate being alive.
Expect only a minimum of instructions – an opening circle, a short centering, a few words to welcome new dancers, until the music takes over.
The general Ecstatic Dance guidelines apply – see the end of the page.
In Ecstatic Dance with me – DJ Grundstoff – you will journey from slow to intense, landing back into slow again at the end. In between, you will experience a variety of emotional and energetic landscapes; playful, light, blissful, aggressive, breathtaking, disturbing, sexual, melancholic, soft, fast, slow.
My intention is to create a wave for you to experience yourself and your moving body in different ways, an uplifting journey with room for many aspects of being human.
Expect tunes and voices from south america, balkan, spain, scandinavia, india, expect flavors of swing discoteque, movie soundtrack, cirkus and psytrance. Expect some glitch and some playfight, and through all of this, a red thread of electronic downtempo.
Random Saturdays each month
Dansepladsen, Faelledparken, Copenhagen Ö
DJ Grundstoff
June 12, 2021
DJ Grundstoff
July 17, 2021
DJ Grundstoff
August 14, 2021
DJ Grundstoff
September 11, 2021
Ecstatic Dance – 3 Simple Guidelines:
1. We Dance without shoes (or: We Dance Barefoot)
This allows us to connect more fully with the Ground (socks are OK)
If you have a physical condition that you need dance shoes, then OK
2. We Dance without words (or: We Dance with Body Language)
This makes it easier to be in a Meditative State
No Verbal Instruction from the Facilitators
No Talking from the Dancers
3. We Dance as We Are
No Drugs/Alcohol, No Phones, No Camera/Video, No Scents, No Expectations, No Judgements, No Shoulds, No Oughts… Just Be Yourself; With Respect for Ourselves, the Space, and One Another.