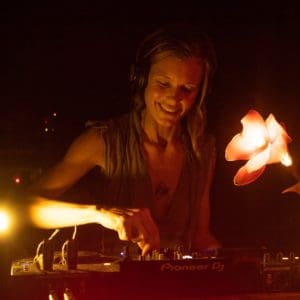 To DJ is the realization of a dream I have had since my first technoparty in the early 90`s - a dream that I realized at 40. I love dancing, and I was always amazed by what a good DJ can do to a dancefloor. There is nothing like conscious clubbing, where the dancers are high only on beats, oxytocin & life itself. I also enjoy creating soundscapes for other types of events - workshops, yoga classes, ceremonies etc. My DJ debut was at an old bathhouse in Copenhagen in 2016 - all the dancers were naked - wonderfully natural and innocent! I am inspired by many years of dancing 5 rhythms, as well as my training as a facilitator of DANCEmandala. Besides dancing and DJ:ing, I lead Yoga Teacher Trainings and cook vegan food.
In Ecstatic Dance I enjoy creating a journey from slow to intense, landing back into slow again at the end. In between, I like to touch in on a variety of emotional and energetic landscapes; playful, light, blissful, aggressive, breathtaking, disturbing, sexual, melancholic, soft, fast, slow.
My intention is to create a wave for the dancers to experience themselves and their moving bodies in different ways, an uplifting journey with room for many aspects of being human.
Expect tunes and voices from south america, balkan, spain, scandinavia, india, expect flavors of swing discoteque, movie soundtrack, cirkus and psytrance. Expect some glitch and some playfight, and through all of this, a red thread of electronic downtempo.
My engagements since I started in 2016 has included…
…Liquid Dreams – cacao ceremony bath house parties
…Bliss Conscious Clubbing with Guy Barrington & Casper Zoan
…ECSTATIC DANCE Copenhagen with Shanti Vibes
…Christianias birthday – Morgenstedet
…Saturday parties – resident DJ at Why Nam Beach, Koh Pha Ngan, 2019
…Arcane Playground of Lady Cacao – 3 day erotic workshop with Newman Alexander
…Authentic Relating Festival – Makvärket, Denmark
…Why Nam beach, Kho Pha Ngan, Thailand- resident saturday DJ
…NOWTOPIA Grey Hall – art & activism festival
…Mön Yoga Festival
…JO:GA – Yoga Studio opening event
…Dance For Freedom demonstrations at Town Hall Square, Copenhagen.