All are welcome! As a collective we encourage guest DJs to create their sets in the style of Gabrielle Roth's 5 Rhythms and incorporate a variety of world rhythms. If you have any questions please reach out to us on Facebook or via email at ChicoEcstaticDance@gmail.com. Hope to dance with you soon <3
We have an upcoming dance on SUNDAY MARCH 6! Our schedule is currently irregular so connect with us on Facebook or via email to hear about future dances.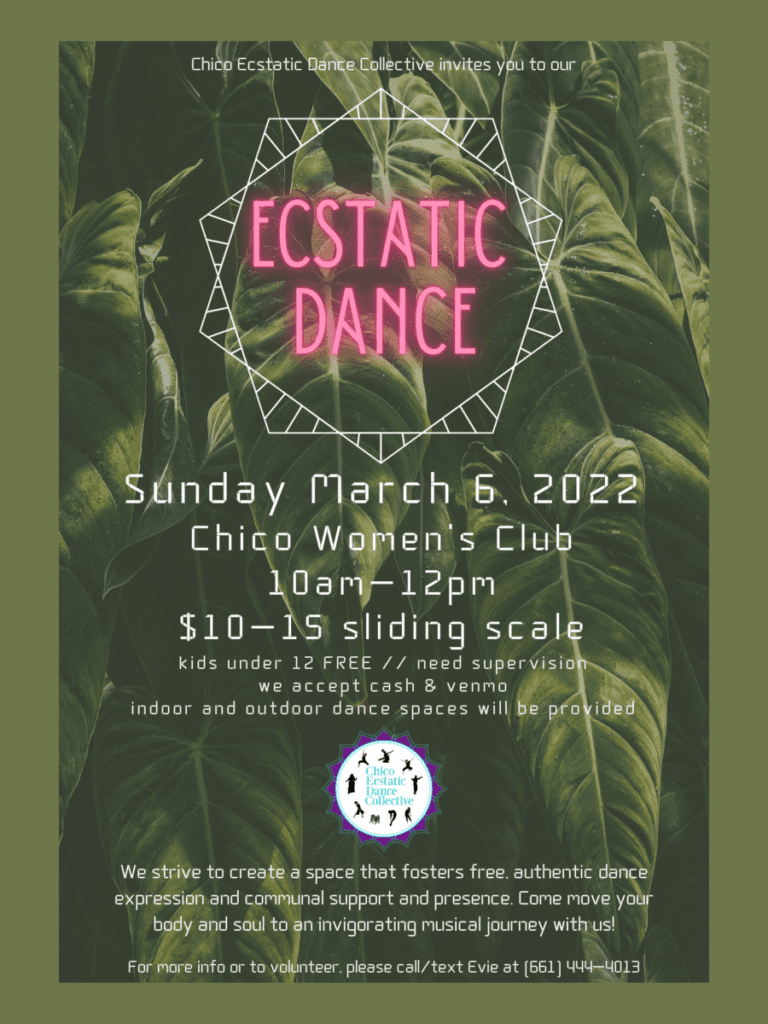 DJ EVIE (fun DJ name TBD)--one of our own collective members!
March 6, 2022
Ecstatic Dance – 3 Simple Guidelines
1. We Dance without shoes (or: We Dance Barefoot)
This allows us to connect more fully with the Ground (socks are OK)
If you have a physical condition that you need dance shoes, then OK
2. We Dance without words (or: We Dance with Body Language)
This makes it easier to be in a Meditative State
No Verbal Instruction from the Facilitators
No Talking from the Dancers
3. We Dance as We Are
No Drugs/Alcohol, No Phones, No Camera/Video, No Scents, No Expectations, No Judgements, No Shoulds, No Oughts… Just Be Yourself; With Respect for Ourselves, the Space, and One Another.