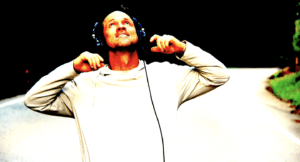 Passion led me to snowboarding, snowboarding led me to dance, dance led me to myself. Nineteen years ago, dance became a path for self- discovery, healing, and transformation. When I created Inner Rhythm, a facilitated conscious dance practice, my role as a DJ was also born. For me, DJing is another form of dance; feeling the energy of the music, the collective energy in the room, and responding with musical offerings.
I strive to craft a soundscape that encourages and welcomes the full range of the human experience including all of its emotional qualities and textures. I play many different styles of music including ambient and classical piano, singer-songwriter/folk, and lots of contemporary electronic dance music such as world and future bass.
Hamid is the founder of Inner Rhythm and cofounder of Ecstatic Dance Santa Cruz. He has been dancing, facilitating, and DJing in conscious movement spaces internationally since 2001.