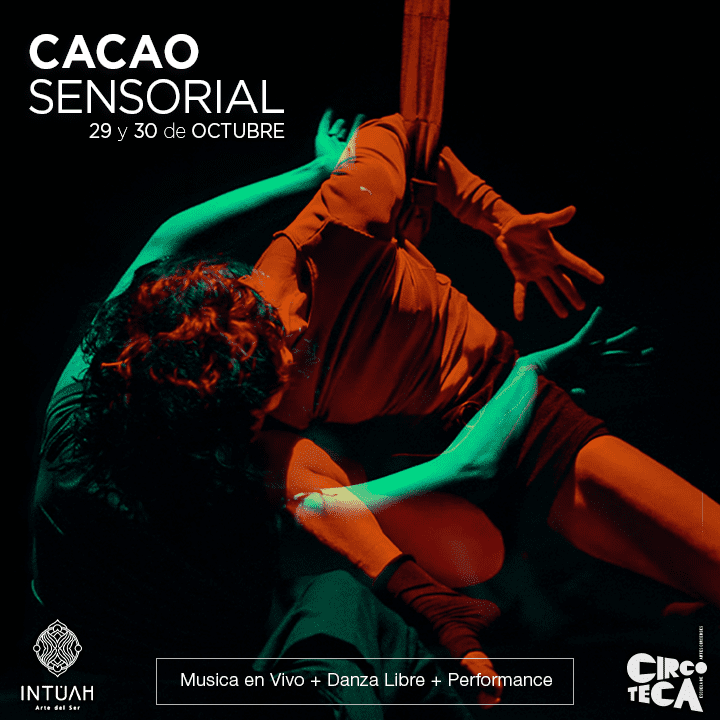 Ya viene la 4ta edición de Cacao Sensorial, una producción entre @intuah.create y @Circoteca dónde fusionamos ceremonia de cacao además de un performance de circo, teatro y danza extatica.
Te invitamos a este evento especial en dónde compartiremos movimiento, música, show/performance y espacio seguro para danzar y compartir lo que somos cuando soltamos las apariencias (trae tu ATUENDO favorito/divertido/comodo) Esta es una invitacion a compartir tu esencia libre en esta experiencia que nos inspira a cantar, danzar, fluir, soltar, mostrarnos y ser lo que somos cuando soltamos las apariencias y damos lugar a la expresión natural.
La danza extática es un espacio neutral para la autoexpresión libre, Es una práctica única de atención plena de forma libre.
Las 3 reglas de la danza extática:
Bailamos descalzos (conéctate y aterriza con la Tierra!)
Bailamos sin palabras (comunícate con el lenguaje corporal, ¡exprésate!
Y saber dar/obtener el consentimiento para entrar en espacios personales)
Bailamos como somos (sin drogas/alcohol, sin teléfonos, sin miedos, sin juicios)
No necesitas saber bailar para vivir esta experiencia! Bailamos para expresar, jugar y sanar, no para impresionar.
Por Favor trae ropa cómoda que te permita moverte libremente.
Realizamos la sesion en un espacio para bailar descalzo.
Utilizamos equipo de sonido potente y de alta calidad.
Preparamos el espacio y lo limpiamos energéticamente
Cuando entras a una sesión de movimiento libre/ecstatic dance, entras a un espacio y comunidad donde eres fundamentalmente bienvenido a ser tu !
Ven y goza en un espacio íntimo y seguro para la libre expresión/exploración y celebracion del ser!
Al asistir podrás experimentar:
-️ Dosis de Cacao Gourmet
-️ Música Medicina en Vivo
-️ Performance de Danza y Performance Aéreo
-️ Movimiento Libre con Dj
-️ Meditación Guiada
Beneficios:
– Meditacion Activa
– Equilibra cuerpo, mente y espíritu
– Diviértete de una forma saludable
– Expande tu energia
– Conecta con tu ser y gente afín
En la intención de permitirnos ser sin máscaras, nos invitamos a traer un ATUENDO que se salga de lo cotidiano y el deber ser, para jugar con las telas, maquillaje, ajuares y demás juguetes que podamos encontrar para sentirnos fuertes en nuestra esencia, libres en nuestra diversidad e inocentes en la presencia de la voz de nuestro corazón.
Nos vemos este 29 y 30 de Octubre a las 6:30pm.
Puedes asistir a un día o a los dos, tendremos música distinta cada día y la danza se co-crea entre les personajes únicos que nos manifestemos esos días.
Cooperacion Amorosa:
$600 en taquilla
$500 Preventa
Adquiere tu boleto aqui https://www.intuah.com/informacion-del-evento/cacao-sensorial-2022-10-29-18-30
o depositando a
cuenta Banorte
CUENTA:0898128066
Clabe: 072580008981280664
A nombre de Sandra Garza
Cacao Sensorial is a Yearly Event
Circoteca, Retamas, México, Monterrey, Nuevo Leon, Mexico
Ecstatic Dance – 3 Simple Guidelines
1. We Dance without shoes (or: We Dance Barefoot)
This allows us to connect more fully with the Ground (socks are OK)
If you have a physical condition that you need dance shoes, then OK
2. We Dance without words (or: We Dance with Body Language)
This makes it easier to be in a Meditative State
No Verbal Instruction from the Facilitators
No Talking from the Dancers
3. We Dance as We Are
No Drugs/Alcohol, No Phones, No Camera/Video, No Scents, No Expectations, No Judgements, No Shoulds, No Oughts… Just Be Yourself; With Respect for Ourselves, the Space, and One Another.