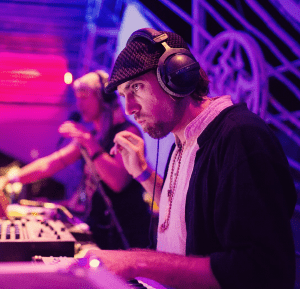 Born from of inspiration of the plants medicines, Reverberating through the halls of sonic spacialisation, Stepping through Temples of Sound, Ben Temple Step is the antithesis of a producer/Dj in service to sharing the transformative nature of sound…
Temples of bass, moving through houses of light, into melodies of the ancients beyond worlds of cosmic universes. The experience of the wave journey, from nothing to everything and back again, I journey through genres, cultures, vibes and spaces. A space for everyone in the set to find song or a beat or a melody for them to connect to and mirror their reflection too.
Genre placement plays a huge part of my selection process, as I do one wave. I usually start with some sacred world ambient music for people to enter the space and arrive with themselves. This then moves into some slow world grooves to softly start the moving process out of the meditation space.
Facilitation usually occurs here, welcoming people into the space. I then drop the beats with some entho bass music and build into global house, turning up the tempo each track to build the energy. This now the section for the peak tracks to hit. I like to use epic trap and future bass or full on tribal house to reach the most intense part of the set.
Moving down from the peak all slowly move through slow house, vocal electronica, reflective grooves. I then like to play emotive cinematic music to bring a sense of close to the dance before moving into the meditation and closure of the set.
Started DJ mainly as a house party DJ, once hooked I started DJing at underground dance events I was part of coordinating. I then released that if I wanted to play for more people, I needed to start producing my own music. Thus, I start Mantrix with a friend. We started the12-year career of our production duo and become world renowned for our 100% live sets. We played at all the big underground dance music festivals and events around Australia.
Then after years of seeing people party in a way that drugs and alcohol became a detrimental element to their relating, I found Ecstatic Dance. I was introduced to it in Bali through DJ Lo Qi and the Yoga Barn. After traveling there on and off years DJing and producing there I became one of the resident Djs at Yoga Barn.
I then returned to Melbourne and Co-founded Melbourne Ecstatic Dance with my partner Madhu Honey. I am currently the resident DJ at Melbourne Ecstatic Dance.
Event DJ sets have included: Earth Frequency Festival, Rainbow Serpent Festival, Buddha Bar, Dragon Dreaming Festival, Spirit Festival Bali and Byron Bay plus countless other events.
Producer Bio:
Benjamin Last has been producing for over 20 years both as Mantrix and then later name, Temple Step. In this time, he has released tracks through Desert Trax, Desert Dwellers record label, toured the world performing and produced over 12 albums and Eps. Ben is also the co-founder of Motiv Music, his music production company with Pete Robinson.
Sound Healer Bio:
Ben has also been a live sound healer for over 10 years doing live sound healings using his laptop and performance technology to create sonic spaces for acoustic musicians do the healing work. In this time he has worked with Avishai Barnatan, Barbra Marx Hubbard, Darpan and many more doing sound healings at festivals around Australia.