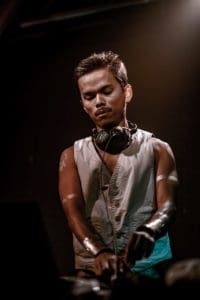 Takuma an active dancer and DJ from Austin, TX. Takuma religiously attends the dances around Austin and have created dances around Austin of his own in the past. It took him a while to start DJing because he loves to dance so much!
Futuristic sounds, modern twist on tribal music, all the way to Ambient and Downtempo. Uplifting musical relief.
Musically I curate my sets based on my own interpretation of the 5Rhythms. The sets are usually more modern and approachable to all. My intention is to always have at least one track in each set that speaks to everyone on the dance floor.
Music has always been a big part of my life. As early as when we still listened to cassette tapes, I would run those things until they broke. Once we got into the digital era of music, I was instinctively curating playlist mixes for myself and my friends. Creating musical experiences has always been intuitive. I was often the friend who would be trusted with the AUX cord.
Once the COVID pandemic hit and dances stopped happening, it gave me the time to sit with music. That's when I started mixing with an old mixer I bought from a friend, with the hope that one day when dances come back I'll be able to provide music for them. To my surprise, I ended up playing for events just a few months later.
These days I primary DJ for ecstatic dances but I also DJ for other types of conscious movement events as well.