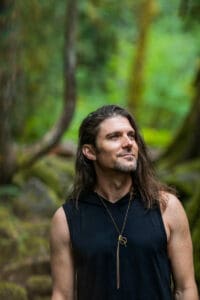 Tahüm is a mantra. it means, "thank you I am enough."
Blending electronic, r&b, and world-bass, Tahüm guides audiences on sonic journeys of metamorphosis with depth and emotional contour. Tahüm live combines the best of high energy performance and electronic texture to deliver entertaining and inspiring shows.
Tyler Winick grew up with a deep-rooted feeling of inadequacy. He found solace in producing music for others but was too afraid to make his own art.
It wasn't until he had a spiritual awakening at Burning Man that he realized it was time to set out on a path of personal growth.
Through years of therapy, sobriety, spiritual practice, and exploration of the self, Tyler eventually created his music project Tahüm – a mantra meaning "thank you, I am enough".
With this phrase as his guide, Tyler hopes to empower others through his music and help them find the strength and courage to believe in themselves and create their dreams.