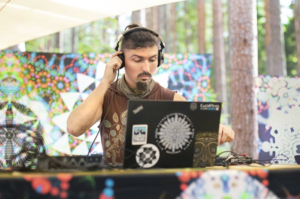 Spiralfractal is a contribution to the harmonization of space from Konstantin Chizhov. Konstantin explores the facets of psychedelic music, combining elements from psybass, psychill and psydub. Like a shaman brewing a medicine, Spiralfractal mixes various sounds to achieve maximum effect. Synthesizers and live instruments harmoniously complement each other. Rhythmic structures set the dance geometry, and ethnic melodies return to ancient archetypes. Music of the Spiralfractal is based on the fundamental laws of being - the spirality and fractality of everything.
Medicine songs, psychedelic bass music, some variations of ethno and world music, my own psybass/psychill tracks
Konstantin began his acquaintance with music at an early age in the choir and flute classes. In the early 2000s, he became interested in rock music and released several DIY albums. Then, having discovered psy-culture, he shifted his interest towards experimental electronics and psychedelic rock of the 1960s. First tracks in the style of psychedelic chillout and IDM were written in 2007. Then Konstantin plunged into the visual arts and spiritual practices. In 2009-2010 he performed as a VJ. From 2008 to 2019 he was actively involved in photography and participated in many Russian and foreign photo exhibitions. He returns to the music in 2020. In the summer of 2021, the first performances of Spiralfractal take place and in August 2022 the 1st album is released.