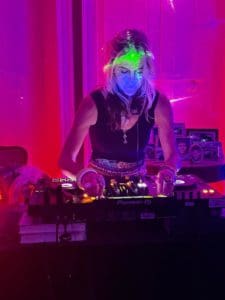 A DJ for 25 years, Laura is based in London and creates mesmerising, eclectic, joyful, haunting and fabulous vibes, weaving musical magic at countless parties, festivals and events all over the world.
Plays uplifting, high vibrational sounds, from emotive, exotic wafty vibes to deep, soulful, funky and organic house with tribal overtones & beats…."Anything that moves the heart, soul & soles."
Laura spins tunes across the globe, from London, Paris & Amsterdam to Africa & the Caribbean – at private gatherings, celebrations, off-piste clubs, underground shindigs, after-show parties (for The Rolling Stones), impromptu jump-ups, intimate parties & festivals – Kimberley, House of Honey, MondoMix, Desert Heart, GIVE! + Golden Delicious to name a few.