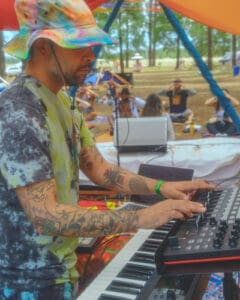 Ohm Homie, is a self taught musician, producer and sound meditation facilitator. Ohm Homie writes his music with intention, for ecstatic dance and yoga workshops. He has been practicing yoga and meditation for over a decade, and believes in activating our ability to self-heal through these energetic practices. He was born in Mexico, and of native descent. His goal is to encourage people to reconnect with their highest self through positive intention.
His latest track "Zapatos" was released through High Vibe Records. The tribal djembe and vocal, channel the drum circle around a fire vibes. His style touches on various genres from reggae, hip-hop, house music, global bass and more. His style is best described as "Electronic World Music". His unique blend of organic and electronic elements creates a soundscape fit for play and self-reflection.
Ohm Homie has played at various festivals in 2022 as the musical element for various Yoga, Sound Meditation and Ecstatic Dance workshops. These festivals include Gem & Jam, High Vibe Fest, June Jam and Same Same But Different.