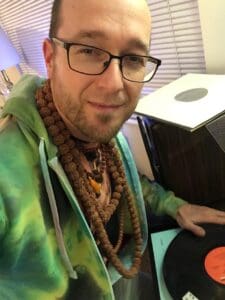 DJ nathan om Real bass playing, keys, homemade samples from everyday sounds from ramen noodles to crickets, classic Roland synths, chill, groovy, dance, ultra funk, energy infused. Each piece is fully composed.
I create and produce my own songs using personalized samples, real bass playing, keys, classic lo-if Roland synths, ethnic instruments. Each piece is unique and all very danceable. Each selection has a progression to it and is much more than just making beats but is a full length composition. Real bass playing, samples, and keys playing make the songs have a more human feel, rather than just being a series of loops.
Nathan om has written and produced many songs in the DJ and jazz world, he plays regularly and holds a steady upright bass gig as well. These musical tracks are real instruments playing through the full song instead of just simply looping and beat making; this gives the music a much more natural and human feel. Nathan has a masters degree in jazz bass studies and studied at New England Conservatory of Music. Nathan's music is not jazz, however, and it is very danceable as well as listenable.