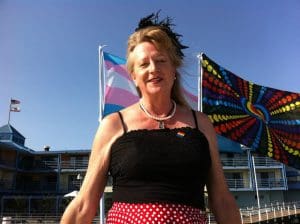 Miss Ayme. Mes Amis. My Friends. Fire one up, grab a cold one, and drop the needle anywhere in this groove. Always reliable, infinitely likeable and instantly ready to mix hand-crafted, one-of-a-kind dance party sets appropriate to the venue and the time. Whether it's short and simple, or an epic burn. But frankly, give me hot, sexy and sweaty every time.
When you get down, you gotta get up. And when you wanna get up, then you gotta get down. Side 'o funk included. My music styles and tastes run the classic gamut across half a century, likely longer. I favor tracks that evoke memories, tracks that awaken buried emotions, or tracks that are enormously popular, to those entirely obscure or forgotten. While for many it's all about the bass and the beat (and I don't have a problem with that), my ear is attuned to melody and dissonant harmonics.
My Dad was a Choir and Music Director. I grew up listening to him playing the piano every day. He started me singing at age 7 (1963). By 1968, I was collecting first-issue releases from the Turtles and the Beatles. I graduated High School in 1974, and was programming house party mix tapes on cassette tape. Of course it was very linear, but even then I was thinking outside the box. With the advent of DAW's, it's a whole new world!
Today, it's about inspiring and uplifting people through the universal language of music. It's about feelings and passion using an eclectic mix of genres and styles, new, old, obscure and popular. I want to set free your heart, your mind and your body. The new, expanding universe of Ecstatic Dance journeys feels like a natural fit, and I incorporate its tenants into every set I create.
I practice a complex craft, using the most basic of tools and as little FX as possible. Less is so much more. I avoid artificially contrived tension and release, and prefer to let music express what is already inherent; if it works, don't fix it.