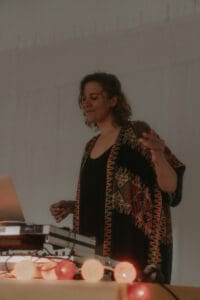 Hey beautiful souls, I'm Meraki, which is greek and can be paraphrased to: 'When you leave a piece of yourself, your soul, creativity, and love in what you do. To put a little bit of yourself into something'. I'm currently based in Saarbrücken/Germany, close to the french and luxembourgish border. In summer 2022 I found the first Ecstatic Dance in this city together wit a fellow DJ-sister. Additional to organizing and dj'ing ED, I'm a ceremonialist for sisterhood circles, wheel of the year celebrations & sound baths.
For me Ecstatic Dances are an ever changing container that I am opening and holding while the dancers are being guided into their intuitive movements.
I love very slow and peaceful mantras as much as tribal beats to shake everything out that needs to go. I'm obsessed with oriental melodies and instruments, spanish medicine songs, african drums and always curious to find and explore new tunes.
From every journey and travel I get new inspiration that flows into my sets
I started to learn about djing 2021 with Raio and Sophie Sofree. Since no events were happening at that time it took me a year of practice and growth until I started to guide my first dances in Summer 2022. I played Festivals, "free-dance" events and finally found Ecstatic_Saar which is now happening on a monthly basis. The community here is growing quickly and we're looking to expend more dances in the area.
Hit me up if you're around! <3