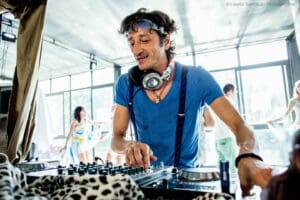 "I connect with my soul's purpose when I have a broad array of music at my fingertips and a crowd willing to shapeshift deeply into the dance! I can see the energy of the people rising as their bodies keep them dancing and their joy fills the space. Then.. I am in ecstasy!"
Max uses music as his magic wand and has the incredible ability
to bring high vibrational energy into any space. His love to dance gives him a feel of what the dancefloor wishes and needs.
His sound is a blend of all tempos electronic groovy and organic soundscapes, shamanic tribal afro house, deep and tech, slow and glithcy earthy beats, lyrical subtle melodies and hipnotic loops, that will make your body vibrate, your spirit expand, and your mind still.
Creating journeys navigating from dark sounds to light atmospheres and uplifting melodies. His sets are made mostly "on the fly", by intuitively reading the energy momentum of the space, with the aim to play and let go the "dj thinking mind" and serve as music channeller.
DJ, Producer, Former Music Label founder (Bustin Loose Recordings), Music Supervisor for Cinema and Theatre.
Pioneer of conscious clubbing, and Holistic djing (Morning Gloryville, Transition, Sunrisers, Yogabeats, 5rhtyhms, Ecstatic Dance)

Started djing at his teens for home parties and at the age of 16 he was resident DJ in one of the clubs on the island of Capri.
Since then is has played in any sort of scenario: beaches, clubs, festivals, concert opening, museums, including the privilege of being one of the only DJs to have played at the Colosseum in Rome.
In 2006 he entered the world of conscious movement practice, becoming a 5Rhythms student, dancer and producer. From 2015 to 2021 he served as 5Rhythms certificate Spaceholder, creating the largest dance tribe in Italy. Founder of the B-Transition collective. He recently moved with his team to where he consider "home": the Ecstatic Dance worldwide tribe, running a bimonthly event in Rome.
Dj Supporter Massive Attack Tour dal 2003 al 2014
Dj Supporter Roisin Murphy – Roma, Italia 2010
Dj Supporter Scissor Sister – Firenze 2006
Dj Supporter Fisherspooner – Napoli, Italia 2003
FESTIVALS:
LATITUDE Festival 2015 – Uk
IKS Festival – 2015 Split – Croatia
TORINO SPIRITUALITA' – 2014
BESTIVAL Festival 2012 – Isle of Wight – UK
BIG CHILL Festival 2011 – UK
MONTREAUX JAZZ FESTIVAL 2010 – CH (with Massive Attack )
BIG CHILL Festival 2009 – UK
ROMAEUROPA Festival 2007 – IT
SECRET GARDEN Festival 2007 – UK
BIG CHILL Festival 2007 – UK
BESTIVAL Festival 2007 – Isle of Wight – UK