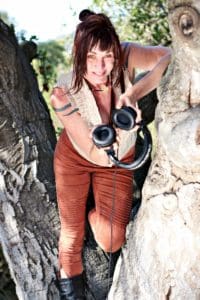 Fun and Frisky Wild-style beats, world bass, soul-searing melodies, a dash of salacious soundz, all woven together in a series of waves, offering a full-spectrum journey for dancers to touch and express alllll their parts.
Organic and electric beats, World Bass, fun n funky remixes of oldies, and the freshy fresh from organic and electronic producers from all over the globe (and a couple of parallel galaxies) 😉
Leapin' Lygress roams far and wide in the jungles of sound, hunting beats, breaks, and melodies served from the heart to move your body and soul. Her ecstatic dance sets feature an eclectic array of organic and electronic music woven into a tapestry intended to explore the full spectrum of human expression. She is a dancer's dj, having been an ecstatic dancer since she discovered the form at Kalani Honua on the Big Island of Hawaii in 2007. Leapin' Lygress offers a ferociously fun ride that will awaken the wild creature within and leave you with a deep appreciation for the magic of movement in community.