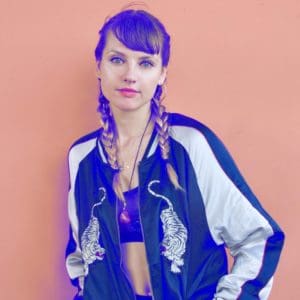 "Immerse yourself in luscious flowery frequency fields and lose yourself dancing to the rhythms of the Earth. Music producer and DJ Lavender Fields invites you to an ecstatic evening of live electronic music, flawlessly crafted with the intention to raise our vibration and open the heart. Giving special attention to the detail and seamlessly weaving together rhythmical patterns and melodies, Lavender takes us on a 2 hour sonic journey to let the inner child awaken in enchantment and joy of being alive." - Trilogy Sanctuary, San Diego
Lavender Fields is a producer, singer-songwriter and multi-instrumentalist who creates ethereal portals of sonic beauty, transcending time and space. Her spellbinding performances are accompanied by her playing the keys, flute, guitar and singing.
Her captivating genre-bending live electronica experience is created as she fuses analog hardware with the innovations of electronic music guided by the intention to heal.
The creator's journey began with her foundation in classical music and has since alchemized with many of her inspirations, from the mystical classical compositions of Tchaikovsky to the timeless, reggae beats of Bob Marley. Flying Lotus' experimental electronica inspired Lavender Fields to explore, create, and fuse sounds with the Moog.
Her ultimate goal in music is to share a positive message with the world. Her passion for the environment is also expressed through her project "Light Up The World", where she plants lavender in every city she visits.