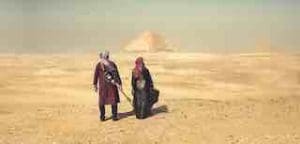 Silk Road Electronica. Middle Eastern to Indian ethnic melodies meets lush electronics.
Journey To A Mystical Realm.
A fluid soundscape of the Silk Road regions from Arabia to India. Sufi, folkloric, classical, original, live electronica with authentic live instruments and vocals of the Middle East, Balkan, Turkish, Persia, India.
Composer, producer, multi-instrumentalist & vocalist Narayan Sijan lived on the Silk Road from 1994-2006, learning & performing music with mystics, masters & locals. He creates musical storytelling from original compositions & traditional melodies.
Electronic music is created by two-time GRAMMY nominee producer & programmer Carmen Rizzo whose credits range from Seal, Coldplay A.R. Rahman to co-founding the world/electronic act Niyaz.
Karavan Sarai's recent album 'TORN IN LOVE' was selected as #22 of the Best World Music Albums of 2020, while spending over 12 weeks in the Top Ten world music charts (NACC). Debut album Woven Landscapes (2015) reached #6 on the world music charts (CMJ). Painted Sands (2018) peaked at #4, with over 10 weeks in the top ten world music charts (NACC). This evocative visual and sonic journey carries listeners to a nighttime courtyard of a virtual Silk Road palace, the Karavan Sarai that gave the project its name.
Performing at large festivals from Bali Spirit Festival in Indonesia, Spirit of Tengri in Kazakhstan & Lighting in a Bottle (LIB) in California to cultural art centers such as Makan in Egypt & CoSM (Alex Grey) in New York.