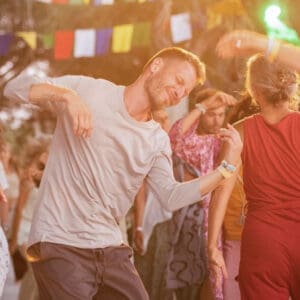 Resident DJ of Ecstatic Dance Prague (CZ) • Music Producer • Movements Facilitator • Writer • Imaginative Dreamer • Cosmic Consciousness
Jobbi as an Ecstatic Dance DJ is mixing prayers with colourful pallets of sounds and styles. In his waves we can enjoy his own remixes and sunshine energy as well. He believe that life is a dance and our dance is an organic celebration of life itself. He loves to celebrate together in joy and freedom.
His music journey as a DJ began in the year 2000. He was 14 years old when he started to play at a teenage discotheque every Sunday and soon after dedicated himself to house music. As a resident DJ of two fine clubs in Prague – Mecca and Duplex – and guest at many festivals he played often for thousands of clubbers in the next two decades. Then he gave up DJing due to the emptiness of mainstream clubbing. The club scene wasn't in harmony with his growing spiritual awareness anymore.
After those crazy times full of parties he lived for while in a meditation center in the middle of forest – where he was trying to find inner peace and living in balance with a small community of people. However his heart still beat with love for the music. It was God's blessing for him when he discover just a few years ago conscious events as an ecstatic dance, cacao dance, five rhythm dance or sacred singing circles as well. His passion for the music is flowing as never before from that time.