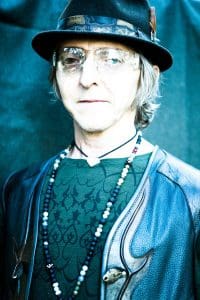 A true musicologist, Jami sources and rides the emergent wave of sonic innovation. Practicing with the Sufi's for over 30 years, Jami is a visionary producer of ecstatic music and events that empower people to strengthen and renew their own autonomous connection to the True Source.  With an ear for the exotic he believes that Sound, Breath & Movement are the keys to unlocking human potential and returning to the natural frequency of True Love.
Jami's mixes span all genres and tempos of dance music serving up an alchemical elixir of multi-dimensional sound wizardry. Jami elegantly plays live percussion during his set which uniquely activates the shamanic potential of the dance floor. His beats are a ceremonial carnival of epic proportion. His artistry is truly unique – he is gifted and clearly called to hold some very new and transformational frequencies.
"Jami delivers a sound that is difficult to describe. 
It is clear that his life purpose is to inspire greatness in others."
   ~ Stan Grof
Jami Deva was blessed to be initiated into Ecstatic Dance with his first gig at Big island's Kalani Sunday Morning eDance in 2010.  Launching him on a journey that led him to 5Rhythms at The Moving Center in Sausalito and then to create his own weekly dance.  DevaDance first began in Sedona and then moved to Ojai, CA. where it has has been consistently pumping out delicious ecstatic grooves since 2012.
With an extensive background in movement arts, Jami has been the audio producer and co-founder on tour with Qi Revolution since 2005 working with groups as large as 2000 people and more than 100 events.  He is a master at creating a healing soundscape that nurtures and Inspires real transformation.  Sound is the invisible force that connects and can translate a moment into pure feeling.  
An Out of Body Experience launched me into the Spirit realm many years ago bringing me into the Quest for True Knowledge.
A music producer who explores the further reaches of rhythm inducing trance states, breakthrough breathwork, and the relationship of sound to light. A shamanic explorer, father, husband, visionary producer/musician and Qigong practitioner.  Currently exploring the depths of the Self and Love.
I have searched for tools to share with others to assist in bringing them into the vast expanse of their own Divinity through a solid autonomous connection with the True Source of All That Is.