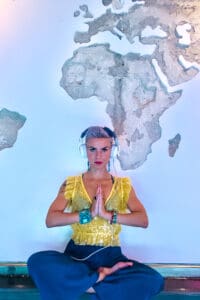 Yoga teacher, Reiki healer, Shamanic trance dance facilitator, cacao ceremonies, photographer and DJ. Music and dance have always been a major part of my life. There are my fuel, my inspiration. With my ecstatic dance i want people to get in an inner journey, to feel safe in a space to explore and heal through movement. My goal is to spread love , make them connect and heal. My music dives deep to my soul and i want to make people feel like i do. Thats why as a dj i am almost a performer..i dance i feel i create. Lets connect! #iriniphoto
D.J , photographer, Yoga teacher, Reiki healer, Shamanic trance dance and ecstatic dance facilitator, cacao and moon ceremonies, massage therapist.
"Music and movement have always been a major part of my life. There are my fuel, my inspiration."
Irini studied photography with scholarship for best student and specialization in fine art and portraiture.
Her work has been in many print outs and magazines around the world.
Exhibited in many group and solo exhibitions in Greece and abroad.
As a music lover she has been through all kinds of music and collecting vinyl since she was a child.
Her love for Djing begun at her high school years on a small radio station.
Over the past 10  years here energy, D.J skills and positive vibe help her develop a reputation of creating great musical moments. She was and still is  the resident D.J for many well-known cocktail bars in Athens Greece like, The Clumsies, Upupa Epops the bar, Baba au rum, Drunk Sinatra, Couleur Locale and many more..
She loves to travel and she  has been staying and working in Singapore, Bali, Morocco and more.
She was guest D.J for several events such the World class competition, Belvedere vodka, for Henessy, for Star channel, Greece.
Apart from that, she is traveling for D.J sets around Greece and abroad.
She was invited for a guest D.J set at Istanbul, Turkey for Moet Hennessy Louis Vuitton (LVMH).
She was resident D.J at Selina Morocco,Agafay desert for 2 months.
At the same time, all these years, her connection with yoga and alternative treatments has started.
She studied for a few years dancing. She is a 500RYT Yoga Alliance certification yoga teacher.
Studied at  Yoga works Greece, then at Radiantly Alive yoga in Ubud, Bali.
Completed the "The Deeper Body" with Carlos Tao, in Bali, learning deeper about lymphatics detox.
She has the second degree  of Reiki energy and she is also a  yoga Nidra teacher.
She has been doing several seminars in kundalini yoga, Osho meditation, tantra, meditation, breath work and more.
She is  a cacao ceremony facilitator and moon ceremony facilitator.
After the aromatherapy seminars that she did she now has her own series of aromatherapy sprays with special blends from pure essential oils 
She is also doing Shamanic trance dance, movement meditation and ecstatic dance.
She has her  own series of  hand made jewelry and bags called "One of a kind"