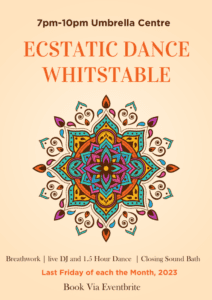 HannahAnanda is the founder of Ecstatic Dance Whitstable. She plays deep melodic, tribal and deephouse sounds to create a sound journey from start to finish. Hannah comes fully equipped with professional standard DJ equipment and play sounds that will keep you moving from start to finish. Sounds that connect to the human emotion and spiritual experience. Ecstatic dance Whitstable is a beautiful ceremony of sound and dance. We hold cacao ceremonies and crystal bowl and gong bath sound healing during the sessions.
Hannah plays world, tribal, deep house, shamanic sounds
Hannah is the founder of Ecstatic Dance Whitstable, where she plays deeply emotive sounds that will support to connect to a higher consciousness, whilst also playing beats that will just get you moving and have a great time. Hannah works as a psychotherapist and sound healing and also hosts a breathwork, beats and sounds event which incorporates body grounding and meditation with psychedelic electronic sound. Hannah can also play great DJ sets and loves to DJ with tribal house.
Ecstatic Dance Whitstable