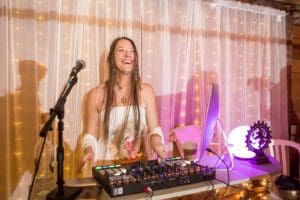 Ecstatic Dance DJ & Facilitator of World-beat Music & Conscious Movement
DJ STAR  (Star Triana)
I've been a DJ since 1998, back then I used 4-Pioneer turn tables and 2-CDJ's. I've always loved music from around the globe, and have had a strong connection with world-beat music my entire life.
It is my passion, purpose and belief that in my life-time, I will see Ecstatic Dance spread to all corners of the world and become just as popular as yoga, if not more!
I've been facilitating conscious movement since 2004 and began my own retreats and training programs in 2009.
MY GENERAL FLOW…
I begin with ambient music as everyone arrives. Inviting you to visit the sacred altars and Set Your Intentions.
Welcoming everyone into the sacred space, I play mantra/soft music for a slow flow warm-up: providing yoga mats for a free-form floor warm up and stretching.
As the music picks up, you will naturally begin to move with the beat of the music. You receive light guidance from the facilitator who holds space for everyone to feel safe to dance and move freely.
I've created a Flow of the Seven Somatic Embodiment Practices and Alchemical Chakra Vocalizations, which are aligned with the BPM (beats per minute) and different styles of music that supports your energy centers to open.
Experience peaks of high intensity music which support the mover to let go and release.
The practice ends with a slow flow cool down, where you can once again find a yoga mat or blanket as you naturally become meditative.
HOW I FOUND ECSTATIC DANCE
When I left my corporate career and luxurious lifestyle of jet-setting weekend getaways and high-powered global meetings, it was to follow the path of becoming a yoga teacher.
While being a yoga teacher and living in India for nearly 5years, I spent six months in silence. While sitting in meditation one day, everything started to vibrate. As I opened my eyes, everything had become a blur and in this vibration a voice spoke and said "Ecstatic Dance is The New Yoga."
I travelled the world experiencing, studying and training in many different modalities of alternative dance.
After years of embodiment and teaching, I created my own retreats and training programs.
In 2012, JaiStar Dance Studio was birthed. I opened the doors of my first Conscious Dance Studio and Training Center in South Florida, United States.
It's a joy and honor to help others step into sacred leadership through ecstatic dance and conscious music!
My two favorite loves = DANCE + MUSIC find their ecstasy when I get to Deejay, Dance & Facilitate!!