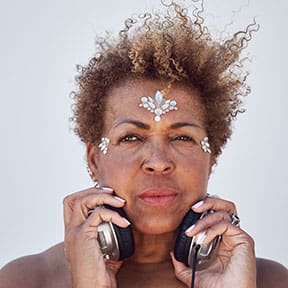 DJ Nubian Lights is founder and co-host of Ecstatic Dance Las Vegas. She has completed both the Ecstatic Dance Leadership Training program and Ecstatic Dance International DJ training in 2019. Dawn enjoys all aspects of the production and operations of the Las Vegas Ecstatic Dance events. She splits the DJ duties with her beloved husband, Ralph (DJ OG RalphieD). The Team now offers online dances, Sunday mornings at 10am PDT
In general, Ecstatic Dance Las Vegas DJs create a fresh mix for each event. The sources vary, from familiar vendors, such as Apple Music and Spotify, to music industry specialty houses, such as BeatPort and Digital DJ Pool. We keep the good times rolling.
DJ Nubian Lights loves music and dancing. Her commitment to Ecstatic Dance is well known to peers and dancers alike. She completed the Ecstatic Dance Leadership and DJ Training programs.