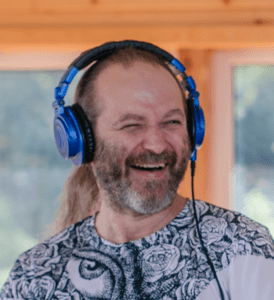 DJ Azal is the founder and a resident DJ of Ecstatic Dance Dubna (Russia) regularly facilitating Ecstatic Dance and leading ceremonies in Russian and English languages. Played Ecstatic Dance gigs in Moscow, Riga, on festivals and retreats. Trained by Ecstatic Dance International team.
Genres include: World Music, Tribal, Root, EDM, Trap, Reggae, Dub, Classical, Funk, Dubstep, Cinematic and more.
Mike Azal is a life-long music and dance devotee. Facilitator of dance, movement and breathing practices, massage therapist and ceremonial spaceholder. His rhythmic and flowy Ecstatic Dance journeys and ceremonies include a diverse range of world music from multiple genres, designed to warm up the dance floor and create colorful emotional landscape that inspires free movement and evoking bright joy. Azal's passion in music is in creating journeys, that initiate transformation and healing in others. Expect flowing, melodic and rhythmic tracks as the music lays the path for physical release, mind-body coordination and revealing play of Life.