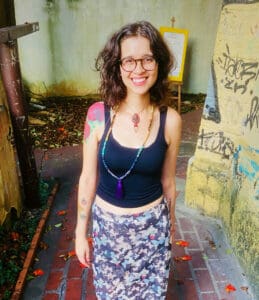 Citronela is a Brazilian DJ (from and currently living in São Paulo) with more than 5 years experience mixing mostly electronic music. She focuses in spreading Brazilian and World Music culture. Her sets are usually loaded with a mix of organic and electronic elements, bringing Latin Vibes, Brazilian Popular Music, Brazilian Regional Culture and Afro-religiosities. She is also a big fan of psychedelic culture, exploring genres such as Psytrance and Chillout music, always sewing different sounds that invite us to connect with art, nature, poetry, ancestry, and spirituality.
Electronic Music
House Music
Brazilian Music (Popular and Regional culture)
Afro – Afro religious sounds
Downtempo
Psychedelic chill out
Psytrance
Mantras
The idea is always to create a journey in which each one has the ability to connect with different atmospheres and hidden parts within themselves, ranging from calmer sounds to higher and more explosive bpms.