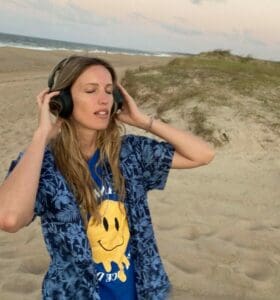 Conectando almas a través de la música. Connecting souls through music. BSAS. ARGENTINA
As the YIN version of myself I like to play Organic House and Playa Tech to express feelings and let go any struggle.
As Im pure duality, my YANG side loves playing Tech House while  rising my energy to the full and filling up the dancers with the power of music.
Charly C es una DJ emergente que ha estado haciendo vibrar los escenarios con su música desde hace algún tiempo. Desde sus primeros eventos, ha demostrado su talento para crear atmósferas y mantener al público enérgico y emocionado.
Además de pasar música, Charly también es una persona espiritual y mística que sabe tirar el Tarot. Sus sets tengan una energía especial, que se siente en todo momento.
Charly ha tocado en fiestas, eventos empresariales y como DJ los ciclos @skydanzmusic en "El Carnal Bar". Su selección de pistas es variada y siempre se adapta a la ocasión, creando un ambiente emocionante y divertido para sus seguidores.
Con su amor por la música y su espíritu místico, Charly promete brindar una experiencia única y emocionante a todos aquellos que la escuchen.