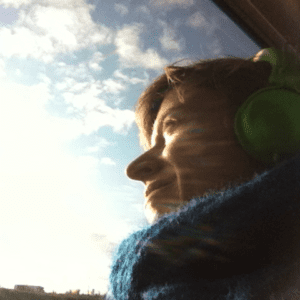 Ecstatic Dance DJ based in Brittany, France. Therapist & Coach, Life/Art Process® practitioner (Anna Halprin), Bach Flower healer.
Passionate about emotions as well as about spontaneous and authentic movement, I weave music and offer sacred spaces for diving deep inside oneself and let move what wants to be moved. To be fully here now embracing all that is.
Dancers in my spaces say they can freely dance on their own and at the same time feel a deep connexion to the group.
The types of music I love and use: world beats remixed from all over the world,  acoustic music, sacred chants, perhaps a hint of psytrance with cosmic vibes,  … I could say it's mainly warm and organic.
I hear music with all my cells and my deep sensitivity, so let see if you enjoy my way of weaving sounds!
As a student, dancing parties were the only moments where I felt free. And I noticed that when dancing I was never tired!
In my late twenties, first a chemistry engineer, I became a researcher in plant chemistry (flowers, not industries 😉 ).
In my early thirties I went through chronic diseases, and dance became an important part of my healing journey. I trained as a therapist & coach… and I became an alchemist. Now I accompany people to go deep into themself, to alchemize what needs to. I coach them to welcome their emotions as everyday allies, to work as a team. I open sacred spaces to welcome everything what is inside us.
I'm now in my early fourties, and I make my coming out as a DJ, after 8 years of creating soundscapes for my intuitive dance and Life/Art Process® workshops.
Why A•Motion? A stands for Agnes as well as Alchemistry. A•Motion stands for letting our emotions come into our movement, as well as for letting us be moved deeply from inside.
***
Note for Mixcloud: My sets older than 1 year were made with automatic mixing. I'll add as soon as possible some manual mixes.