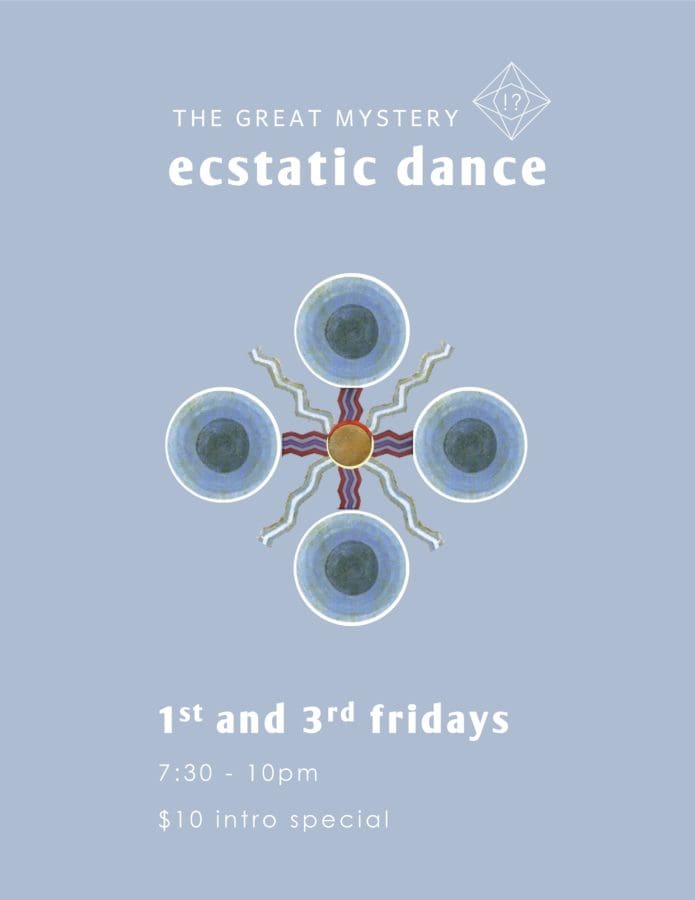 The Great Mystery !? Ecstatic Dance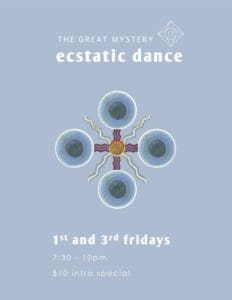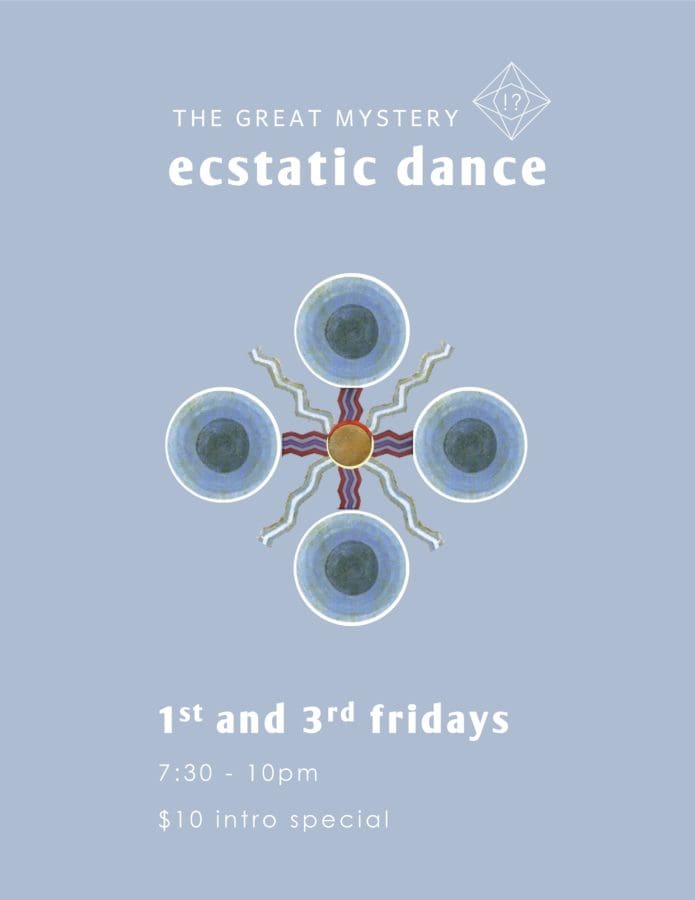 * $10 Intro Special! * at Being Space. www.beingspacepdx.com
We are excited to announce that The Great Mystery !? Ecstatic Dance will be held the first & third Friday of every month! Dance we shall!
Join us at Being Space for an evening of intention and expansion through ecstatic dance, community, and connection.
Noetic, our resident DJ, weaves together music that is timely & timeless, creating a soundscape collage of IDM, cosmic classical, abstract pop, spiritual jazz, digital folk, downtempo bass, and experimental sound design.
https://www.mixcloud.com/noetic_experience/
We'll begin the evening with Primal Voice, a group vocal experience which explores the range of human voice through humming, chanting, singing, and laughing.
$10 Intro Special, Cash Appreciated.
7:30 Doors Open // arrive, stretch, explore, connect
8:00 Opening Circle // Primal Voice
8:15 Ecstatic Dance
8:30 Doors Close
10:00 Closing Circle
10:30 Good Night
Being Space is a healing sanctuary exploring transformational experiences through ceremony, sound, and celebration. All forms of authentic dance, movement, and expression are encouraged.
Our entrance is located off of Stark, in the parking lot of Scapegoat Tattoo and Food Fight!.
Please remove your shoes when you enter Being Space. No verbal communication on the dance floor. Please be mindful of your surroundings when dancing. Please bring your own ear plugs if you are sensitive to loud music. Thanks for your interest and curiosity, we look forward to exploring with you!
Ecstatic Dance – 3 Simple Guidelines
1. We Dance without shoes (or: We Dance Barefoot)
This allows us to connect more fully with the Ground (socks are OK)
If you have a physical condition that you need dance shoes, then OK
2. We Dance without words (or: We Dance with Body Language)
This makes it easier to be in a Meditative State
No Verbal Instruction from the Facilitators
No Talking from the Dancers
3. We Dance as We Are
No Drugs/Alcohol, No Phones, No Camera/Video, No Scents, No Expectations, No Judgements, No Shoulds, No Oughts… Just Be Yourself; With Respect for Ourselves, the Space, and One Another.