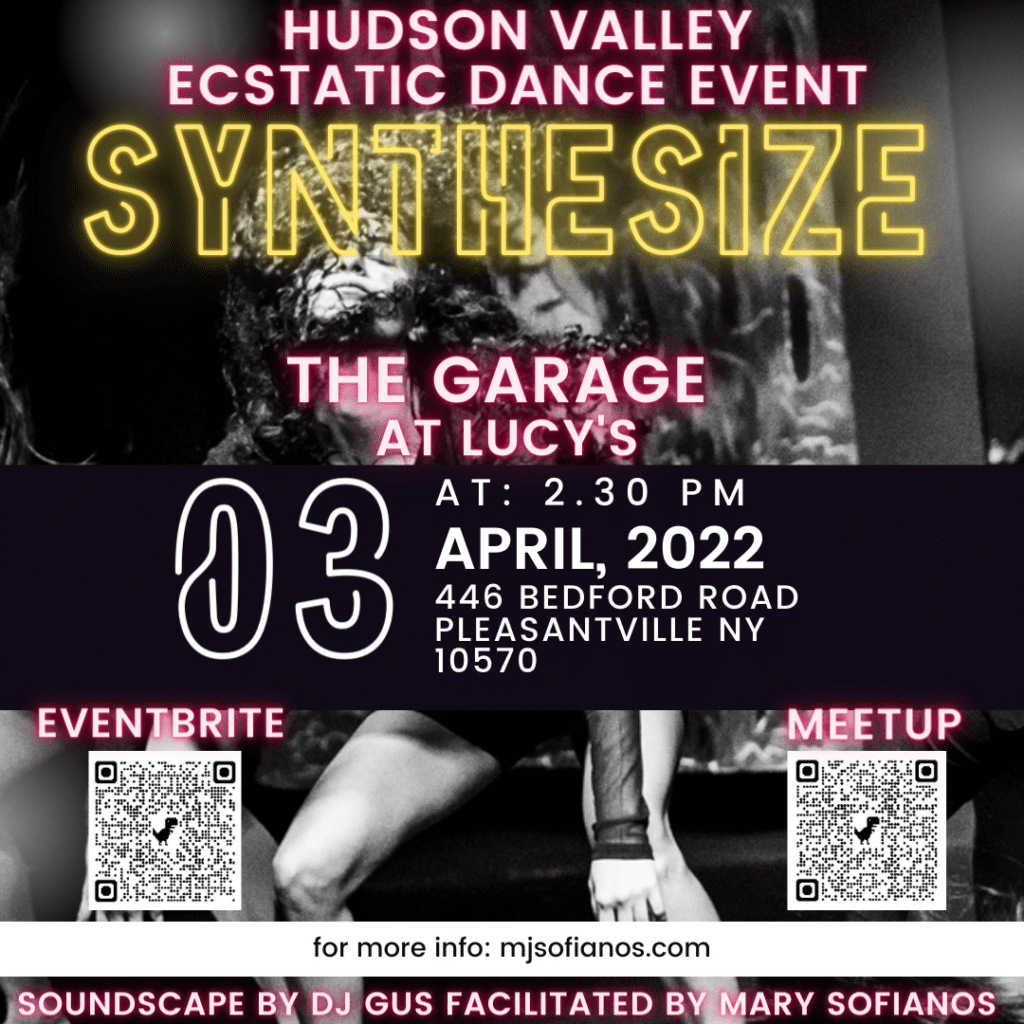 We are having our first in-person Hudson Valley Ecstatic Dance event!!! Looking forward to seeing everyone there <3
When: Sunday, April 3rd
Registration at 2:30 pm
Where: The Garage at Lucy's Lounge
446 Bedford Road
Pleasantville, NY 10570
Who: Facilitated by MJ Sofianos, Soundscape by DJ Gus.
DJ Gus Stratigeas Bio:
Gus started pursuing his broadcasting career in his teens by running radio shows in high school and college where his love and passion for music and mixing began. Gus continued to develop his sound skills and had DJ residencies at clubs in Stamford, Connecticut, and Westchester County, NY. As Gus continued to work in the tri-state area, he then began to compete in DJ battles in Yonkers and New York City. DJ Gus has a versatile range of music styles that he loves to play and has performed at private parties that span from corporate events to sweet 16s. He is knowledgeable in Greek cultural and traditional music and is currently working on producing EDM tracks. You can find his tracks on Soundcloud at https://soundcloud.com/dj-gus-ny.
MJ Sofianos:
MJ is a dancer, choreographer, and spiritual connector who will be hosting and facilitating the event. MJ has been moving throughout Westchester, NYC, and Arizona and is looking forward to sharing this experience with you!
Registration/warm-up starts 2:30 pm. Dance begins at 3 pm. After the dance is complete, there will be a meet and greet in the Basement at Lucy's Lounge with specials on drinks and food starting at 5 pm. Say hello, hang out, and hydrate <3
Be yourself, be comfortable, and be free to move consciously <3
This is a ticketed event and those who have purchased tickets will be automatically registered. Tickets will be available through Eventbrite at https://www.eventbrite.com/e/hudson-valley-ecstatic-dance-synthesize-tickets-295012098127.
Tickets are $15, apply promo code "creativeconsciousness" on Eventbrite for $10 discounted tickets for friends, family, and community <3
446 Bedford Road Pleasantville, NY 10570
Ecstatic Dance – 3 Simple Guidelines
1. We Dance without shoes (or: We Dance Barefoot)
This allows us to connect more fully with the Ground (socks are OK)
If you have a physical condition that you need dance shoes, then OK
2. We Dance without words (or: We Dance with Body Language)
This makes it easier to be in a Meditative State
No Verbal Instruction from the Facilitators
No Talking from the Dancers
3. We Dance as We Are
No Drugs/Alcohol, No Phones, No Camera/Video, No Scents, No Expectations, No Judgements, No Shoulds, No Oughts… Just Be Yourself; With Respect for Ourselves, the Space, and One Another.