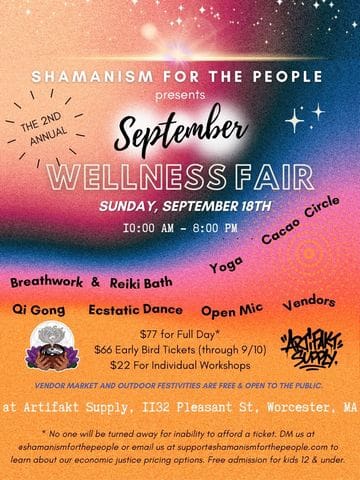 About this event
Join Shamanism for the People for our 2nd annual September Wellness Fair at Artifakt Supply in Worcester Massachusetts. Get together with like minded individuals for a day of mindfulness, movement, ceremony, and dance.
Get to know Artifakt Supply
1132 Pleasant St in Worcester Massachusetts
Shamanism for the People was birthed during the late summer of 2020 and has been holding space for others to uncover their path towards personal well-being. The community is rooted in traditions such as buddhism, metaphysics, shamanism, hindu mythology, zen, and always welcoming in others.
What's on schedule for The September Wellness Fair?
Breathwork & Reiki Session ~ 10:00 a.m. – 12:00 p.m.
Hosted by: Wisty & Jordan Grinstein
Check out Wisty
Yoga ~ 1:00 p.m. – 2:00 p.m.
Led by: Audrey Tesserot
Check out Audrey
Cacao Circle ~ 2:30-4:30
Facilitated by: Rachel Goldberg
Check out Rachel
More information about the Cacao we are serving
Qi Gong ~ 4:45 – 5:15
Taught by: Christopher Pena
Check out Christopher
Ecstatic Dance: ~ 5:15 – 7:15
Beats by: Dustin Rosata
Check out Dustin Rosata
Open Mic: ~ 7:15 – Evening ends
Hosted by: Shanti
Check out Shanti
Stay tuned for more information about our facilitators & vendor announcements
Tags
1132 Pleasant Street Worcester, MA 01602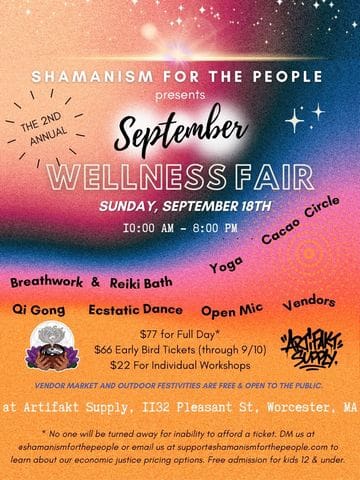 Dustin Rosata
September 18, 2022
Ecstatic Dance – 3 Simple Guidelines
1. We Dance without shoes (or: We Dance Barefoot)
This allows us to connect more fully with the Ground (socks are OK)
If you have a physical condition that you need dance shoes, then OK
2. We Dance without words (or: We Dance with Body Language)
This makes it easier to be in a Meditative State
No Verbal Instruction from the Facilitators
No Talking from the Dancers
3. We Dance as We Are
No Drugs/Alcohol, No Phones, No Camera/Video, No Scents, No Expectations, No Judgements, No Shoulds, No Oughts… Just Be Yourself; With Respect for Ourselves, the Space, and One Another.