San Cristobal Ecstatic Dance
Let me introduce myself: My name is Dina I've been co facilitating and facilitating many Ecstatic Dances, Dance Churches, Dance Jam's Contact Improv Jams, Authentic Movement and Physical Story Telling classes in San Diego California and Colorado Springs Colorado for the last 13 years or so.
I can't wait to bring an authentic and grounded experience of Ecstatic Dance to San Cristobal!
Since I've moved here in March 2021 I've been to a few lovely expressive dance events, yet I was craving the consistency of the dance container in my weekly life that Ecstatic Dance has provided to me all those years. A place to release and express! A safe judgement and substance free environment where I am surrounded with other like hearted community folx.
A place where we can all support each other in moving through whatever is up for us emotionally, mentally or physically on the dance floor. Sweating our tears and prayers out through the body together in a room where magic can happen non-verbally, bring it all to the dance floor and leave it on the dance floor.
For those of you who practice consistently you know how It can be pure magic when you are dedicated to showing up to move your body in whatever and whichever way it wants to move!
Doing this with community at least once a week can be a powerful transformative practice.
I am so excited to see you all soon on the dance floor!
Love, Light & blessings
Dina
Join Facebook Page For Updates On When We Dance
Join us on WhatsApp or Telegram to get location. WhatsApp: https://chat.whatsapp.com/ErSgplSu0dPK7s5Ufqhoaa Telegram: https://t.me/joinchat/-lUS2ODdChM4ZDAx
150 pesos (volunteer/scholarship available)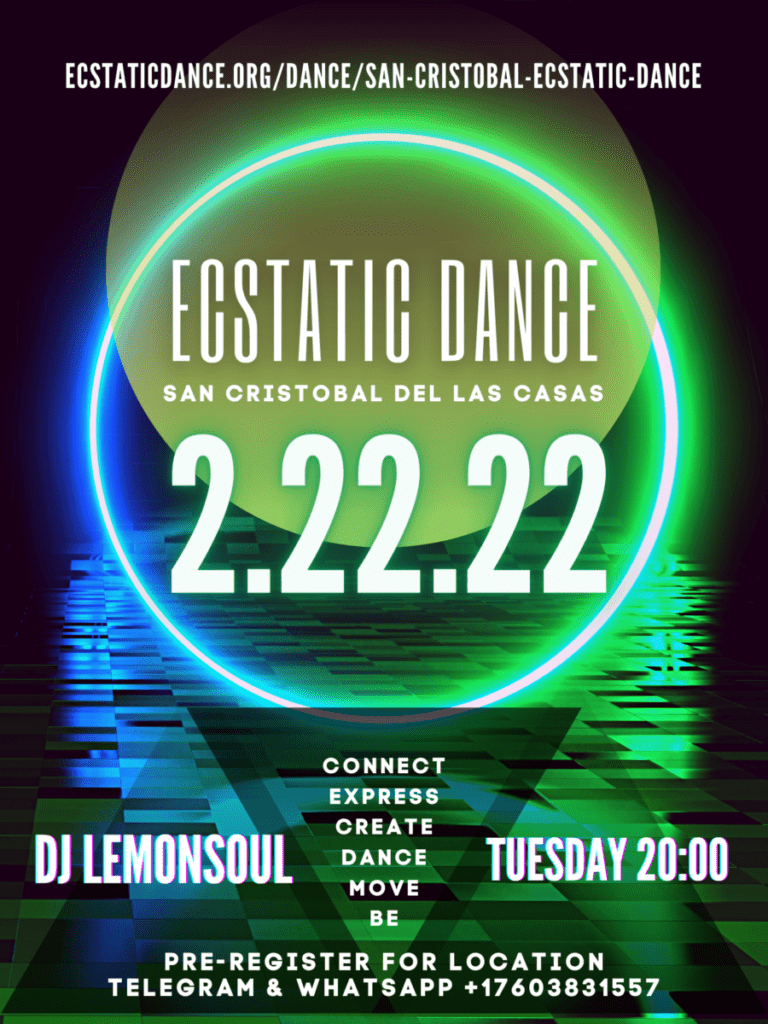 DJ LemonSoul
February 22, 2022
*MUST PRE-REGISTER FOR LOCATION* All Planets are finally direct! No More Retrogrades! Which can only mean one thing.... Time to celebrate the New Year For Realz! Come Set you intentions, Sweat Your Prayers, Shake, Dance, Move, Breath, Express, Create, Emote, Roll & Just Be IN YOUR BODY!
Ecstatic Dance – 3 Simple Guidelines
1. We Dance without shoes (or: We Dance Barefoot)
This allows us to connect more fully with the Ground (socks are OK)
If you have a physical condition that you need dance shoes, then OK
2. We Dance without words (or: We Dance with Body Language)
This makes it easier to be in a Meditative State
No Verbal Instruction from the Facilitators
No Talking from the Dancers
3. We Dance as We Are
No Drugs/Alcohol, No Phones, No Camera/Video, No Scents, No Expectations, No Judgements, No Shoulds, No Oughts… Just Be Yourself; With Respect for Ourselves, the Space, and One Another.