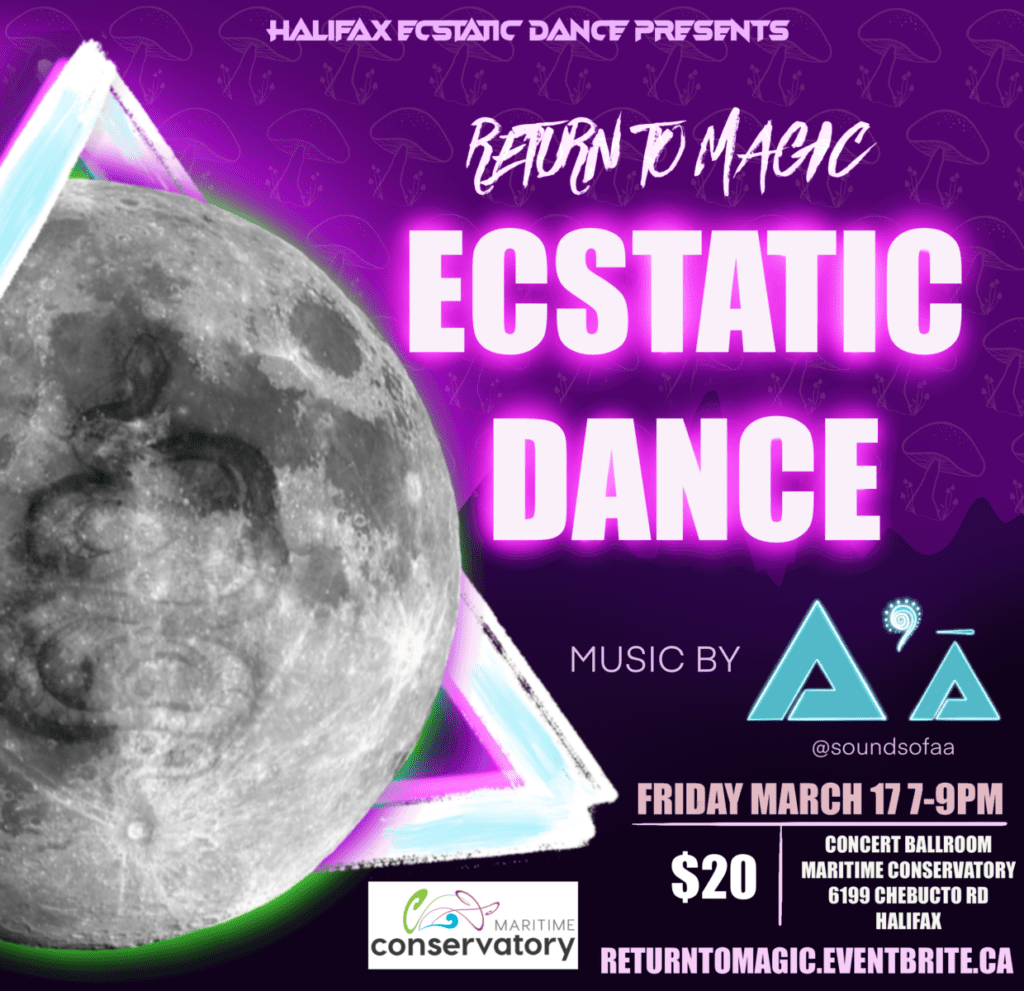 Return to Magic Ecstatic Dance
RETURN TO MAGIC ECSTATIC DANCE
Dance freely with us in the Concert Hall Ballroom of the Maritime Conservatory to the Spacey Tribal sounds of A'ā
This celebration is taking place on March 17th the same day as St Patricks Day. We chose this day becuase tradtitional St Pats celebrations involve heavy intoxication and is based on the story of St Patrick driving out the snakes. The story is based on an allegory for the witch hunts of the time. The witches were represented by snakes in the story to associate the magic people of the time with fear.
Our intention for this event is to celebrate the return and rememberance of our own Magic.
We will feature local herbalists, artists and healers at the event.
See you on the dancefloor!
~ ♡ ~
MARCH 17TH | A'ā
~~~~~
FRIDAYS SCHEDULE:
≫ 7:00PM – DOORS OPEN
≫ 7:15PM – GATHER & STRETCH
≫ 7:30PM – OPENING CIRCLE
≫ 7:45PM – ECSTATIC DANCE
≫ 9:15PM – CLOSING MEDITATION
~~~~~
TICKETS:
$20 Online and Door tickets available
* Grabbing advanced tickets for this show is recommended as it is likey to sell out
** This event will have some portions photographed and video recorded. Please let us know if you would like to have no pictures of yourself <3
*****************************************************
COME AS YOU ARE. DANCE AS YOU PLEASE.
HALIFAX ECSTATIC DANCE WEAVES TOGETHER WORLD CLASS PERFORMERS, IMMERSIVE SOUND JOURNEYS AND FREE-FORM MOVEMENT. IT'S A SUBSTANCE-FREE, ALL AGES COMMUNITY CELEBRATION WHERE YOU CAN SIMPLY BE YOURSELF, AND EXPERIENCE REJUVENATION AND INSPIRATION THROUGH CONNECTION, DANCE AND MUSIC!
TRANSCENDING LANGUAGE, CULTURAL AND PERSONAL BARRIERS, ECSTATIC DANCE ENABLES MILLIONS TO CONNECT THROUGH FREEFORM DANCE AND MUSIC ALL OVER THE GLOBE AT REGULARLY SCHEDULED SUBSTANCE-FREE GATHERINGS.
DANCE HOW YOU WANT. NO JUDGEMENT.
HOW IT WORKS
We open into a wide circle and do some light stretching which then transitions into a freeform dance journey facilitated by our guest DJ's.
At the end of the set we close with some sound healing or group exercise to ground and complete the experience.
Mystik Nic / Wuzzo
March 17, 2023
Ecstatic Dance – 3 Simple Guidelines
1. We Dance without shoes (or: We Dance Barefoot)
This allows us to connect more fully with the Ground (socks are OK)
If you have a physical condition that you need dance shoes, then OK
2. We Dance without words (or: We Dance with Body Language)
This makes it easier to be in a Meditative State
No Verbal Instruction from the Facilitators
No Talking from the Dancers
3. We Dance as We Are
No Drugs/Alcohol, No Phones, No Camera/Video, No Scents, No Expectations, No Judgements, No Shoulds, No Oughts… Just Be Yourself; With Respect for Ourselves, the Space, and One Another.