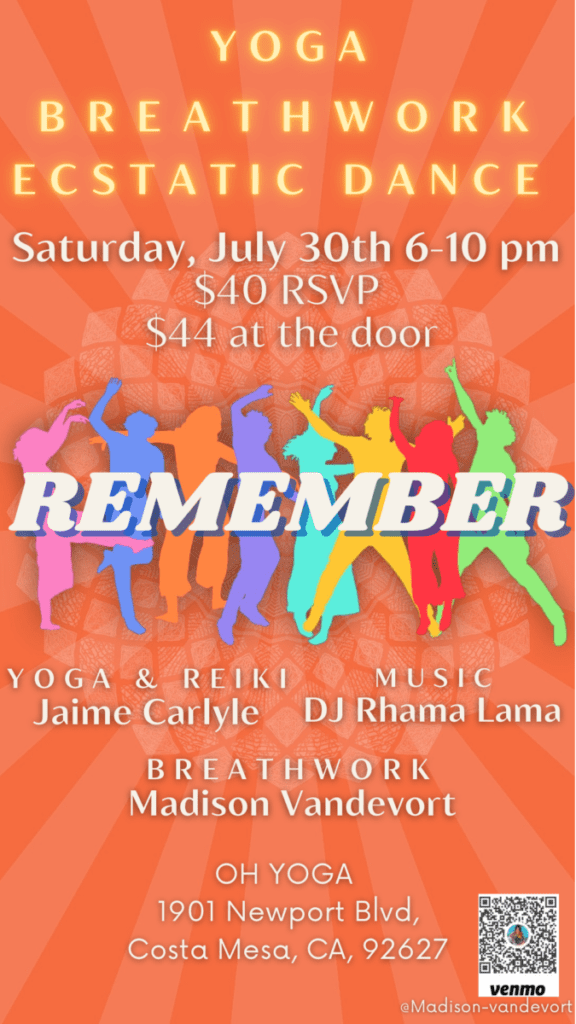 "Remember" Ecstatic Dance, Yoga, and Breathwork Experience
"Remember"
YOGA – BREATHWORK – ECSTATIC DANCE
-An immersive experience to Remember who you are-
Join us for Mind Heart Body Soul Yoga with Jaime Carlyle,
guided Breathwork Journey by Madison Vandevort with Reiki from Jaime,
and an Ecstatic Dance music set by DJ Rhama Lama.
6:00 pm // Doors open
6:15-7:00 pm // Mind, Body, Soul Yoga & Reiki
7:00-7:50 pm // Breathwork Journey
8:00 pm // Ecstatic Dance Opening Circle
8:10-9:45 pm // Esctatic Dance with DJ Rhama Lama
9:45-10pm // Closing circle
*Please bring*
-Yoga Mat
-Light blanket
-Eye Mask *Optional*
$40 RSVP
$44 at the door
*VENMO ONLY*
@Madison-vandevort
July 30th - More events TBA
OH Yoga, 1901 Newport Blvd, Costa Mesa, CA 92627
$40 RSVP, $44 at the door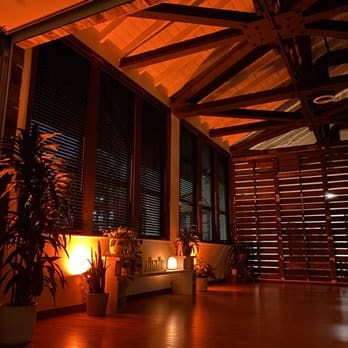 DJ Rhama Lama
July 30, 2022
Breathwork and Yoga
Ecstatic Dance – 3 Simple Guidelines
1. We Dance without shoes (or: We Dance Barefoot)
This allows us to connect more fully with the Ground (socks are OK)
If you have a physical condition that you need dance shoes, then OK
2. We Dance without words (or: We Dance with Body Language)
This makes it easier to be in a Meditative State
No Verbal Instruction from the Facilitators
No Talking from the Dancers
3. We Dance as We Are
No Drugs/Alcohol, No Phones, No Camera/Video, No Scents, No Expectations, No Judgements, No Shoulds, No Oughts… Just Be Yourself; With Respect for Ourselves, the Space, and One Another.