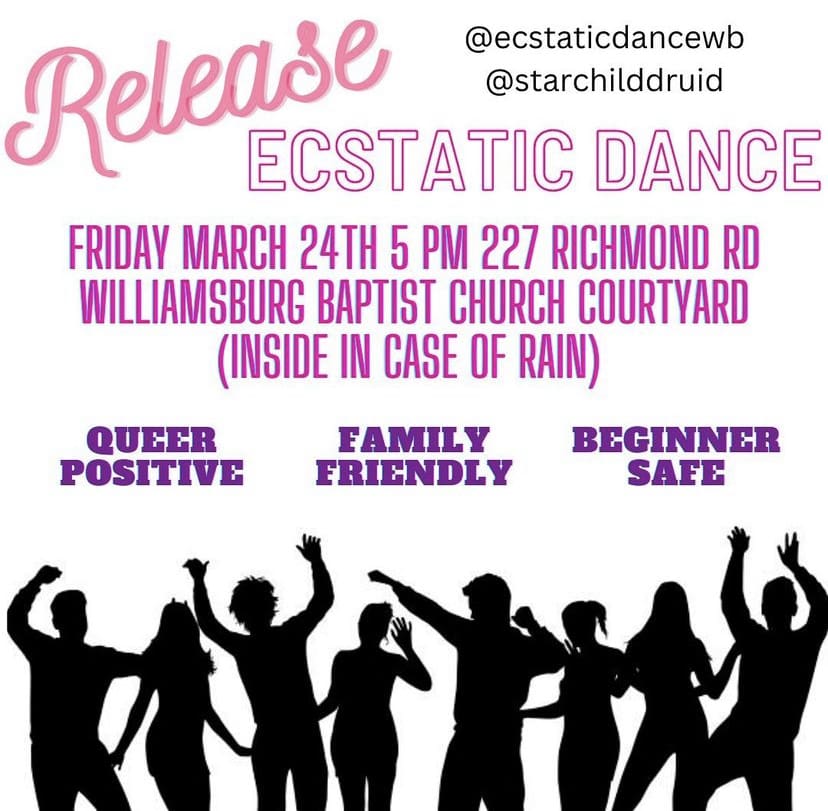 Release: Ecstatic Dance Williamsburg
On Friday March 24th at 5 pm, we will hold an ecstatic dance at Williamsburg Baptist Church in the courtyard (inside in case of rain). Ecstatic dance is an alcohol-free, body-positive space for healing body movement. You do not even have to dance. You can bring a yoga mat or chair and sit the whole time if you like. Ecstatic dances are usually technology-free and talking-free so that introverts and extroverts alike can have a healing experience. Please bring your own water and something comfortable to sit on if you like. We will go for about an hour.
We are starting an ecstatic dance on Friday, March 24th. We will determine the frequency based on the response.
227 Richmond Rd, Williamsburg, VA
Ecstatic Dance – 3 Simple Guidelines
1. We Dance without shoes (or: We Dance Barefoot)
This allows us to connect more fully with the Ground (socks are OK)
If you have a physical condition that you need dance shoes, then OK
2. We Dance without words (or: We Dance with Body Language)
This makes it easier to be in a Meditative State
No Verbal Instruction from the Facilitators
No Talking from the Dancers
3. We Dance as We Are
No Drugs/Alcohol, No Phones, No Camera/Video, No Scents, No Expectations, No Judgements, No Shoulds, No Oughts… Just Be Yourself; With Respect for Ourselves, the Space, and One Another.