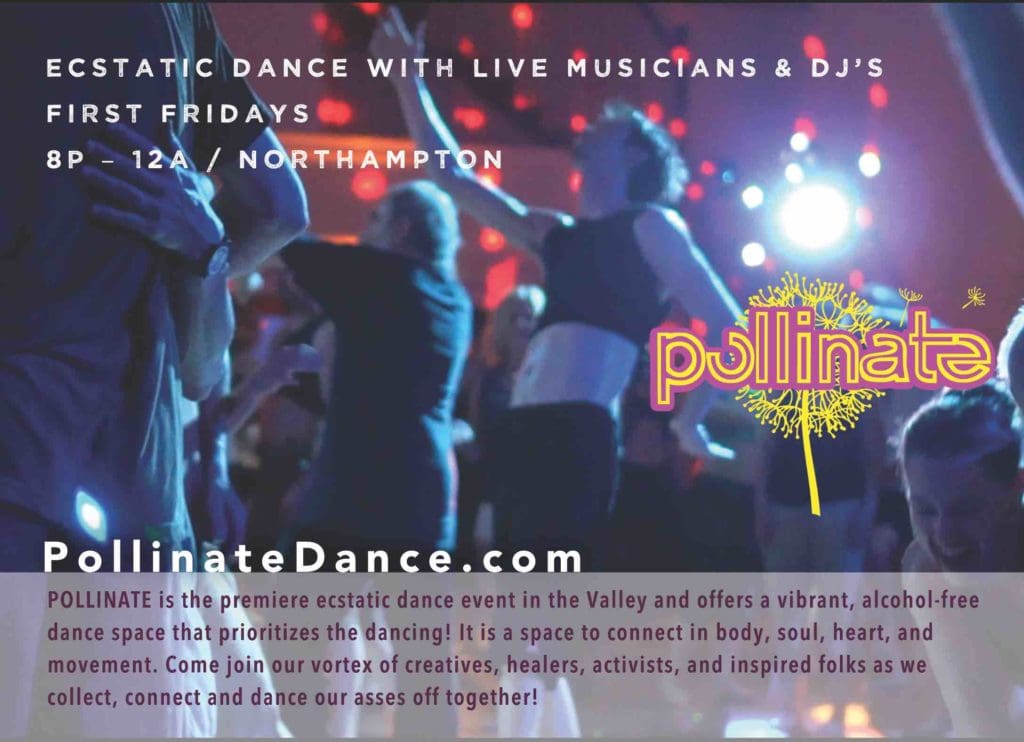 Pollinate Dance | Northampton MA
FIRST FRIDAY⁠. EVERY MONTH ♡
POLLINATE is a part of an expanded global community of free-form dance in a space created in authenticity, joy, personal transformation, liberated expression, non-judgement, and safety. Ecstatic Dance is about self-expression, freeing your mind and body, and connecting with yourself and those around you. We encourage a safe atmosphere for people to let go of inhibitions and get into their bodies!
We are proud to be holding space as the Valley's premiere ecstatic dance event for the community to come alive in for the past 11 years.
Check out our short-film from our 10 year anniversary dance, here.
Studio4 | 25 Main St, 4th floor | Northampton MA
First Friday of each month!
25 Main Street, 4th floor Northampton MA
WE LIVE BY:
Keep it ecstatic.  Keep it conscious.  Keep it consensual.

🚫 Shoes, conversation & cell phones off the dance floor. No drugs/alcohol.

This is a judgement free zone. The key is to be yourself, explore your movement, and find your inner badass + bold self.

🤝 Dances are respectful and consensual. You may motion an invitation for a dance with open arms before entering into someone's dance space. You may make use of prayer hands at the heart ('namaste') as a respectful decline.