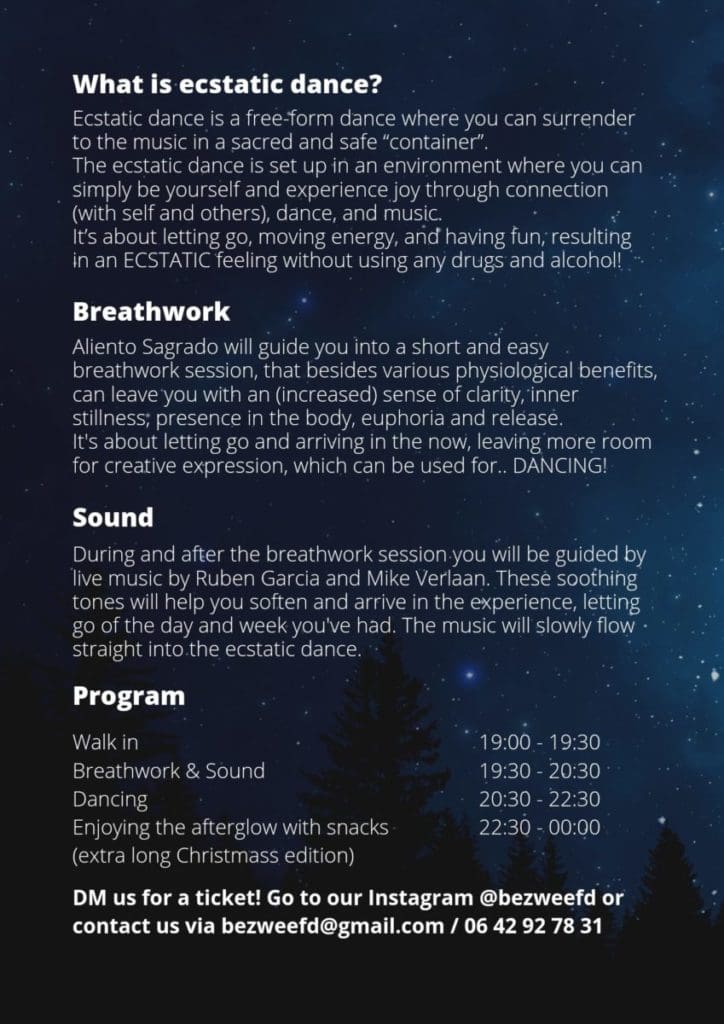 Ecstatic Dance Bezweefd December 2022
Dear Zweevers!!
The last edition for this year of the Bezweefd Ecstatic Dance will be held the 10th of December!
In light of the Christmas spirit ,we thought it would be nice to have a warm closing of this year together by having an extra-long cozy Christmas hangout with more food and snacks after the dance journey!
Before this dance journey, we will start with a short and easy breathwork session guided by Aliento Sagrado. This will be followed by a short live music session by Ruben Garcia and Mike Verlaan which will flow into the ecstatic dance.
DJ REGENERATE (who was also the dj during the first edition) will guide us throughout the dance journey for this edition with his amazing, versatile & energetic music set!!!!!!!!
And if we can share something about his sets, it really is a JOURNEY.
Check out his music here:

Together with Mike and Perine he's also organizing ecstatic dance in Delft:

Get your tickets via this Hipsy link!
https://hipsy.nl/shop/7045-bezweefd-ecstatic-dance
And as always, looking forward to see you there (emoji)
Ready, set, zweef!
Schoterbosstraat 17, 3032 CN Rotterdam