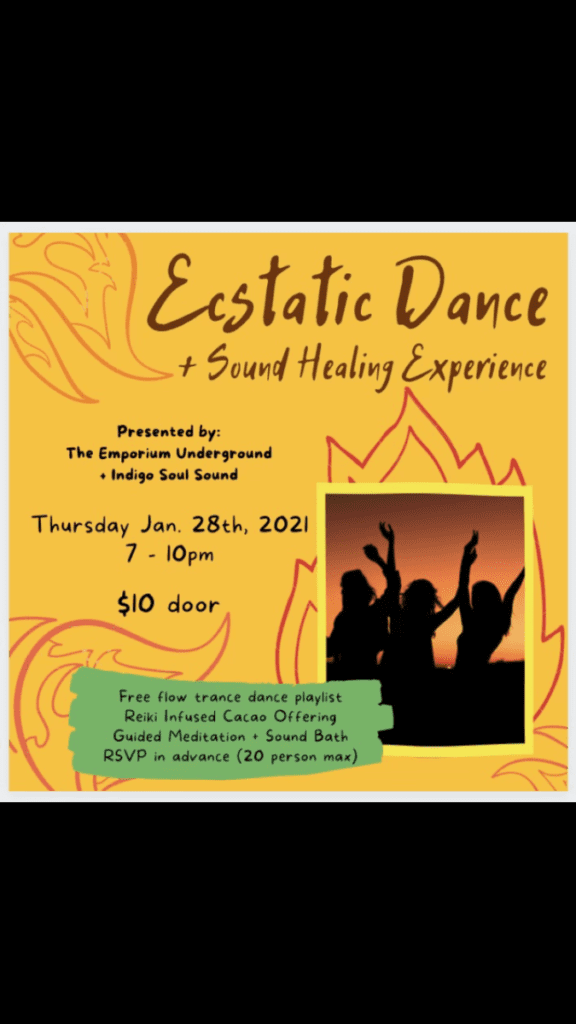 Moonrise Ecstatic Dance Carolinas
Please arrive at 7 to drop in to the space, stretch. We will begin at 7:30 with a cacao offering, sound bath chakra alignment and introducing a few basic aspects of respect.
We will dance, followed by a grounding and rest guided meditation, and live performance while we connect further and talk about our experience. Oracle cards available
3260 Holmestown Rd, Myrtle Beach, SC 29588-7489, United States
Open Hearts Dance
February 11, 2021
THIS WILL BE LOCATED IN CALABASH NC AT MOVEMENT WORKS
Ecstatic Dance – 3 Simple Guidelines
1. We Dance without shoes.
This allows us to connect more fully with the Ground (socks are OK)
If you have a physical condition that you need dance shoes, then OK
2. We Dance with Body Language.
This makes it easier to be in a Meditative State
No Verbal Instruction from the Facilitators
No Talking from the Dancers
3. We Dance as We Are
No Drugs/Alcohol, No Phones, No Camera/Video, No Scents, No Expectations, No Judgements, No Shoulds, No Oughts… Just Be Yourself; With Respect for Ourselves, the Space, and One Another.