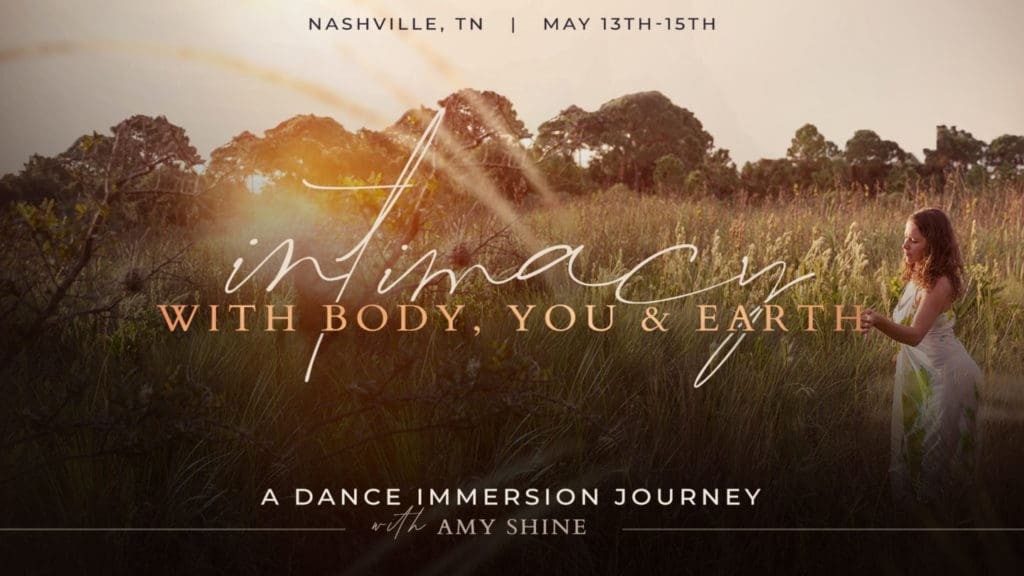 Intimacy with Body, You & Earth: Dance Immersion Journey
Welcome to having Intimacy with your Body, You and the Earth in Nashville, TN, May 13th-15th.
This is a weekend Dance Immersion Journey where we will move & explore what it is to move, dance and be intimate with your body, you and the Earth.
Find all your different options to attend this weekend dance immersion here: https://www.amyshine.net/intimacy 
Amy Shine is an Ecstatic Dance Facilitator & Access Consciousness Facilitator as well as a Body Facilitator.
This weekend immersion will be exploring embodied movement with the Elements of the Earth.
Elements of Intimacy with you. What is it like to move with sensualness, trust, gratitude, vulnerability?
You will be invited to breath, move, embody and drop out of your head into your body. Let go of control and access the natural joy and Ecstatic bliss from within.
Get clear on what you are asking with you and the universe. Journal your asks and dance with the energy of your asks as you create magic with your body & open up to receiving from the universe.
What you get:
~ Friday night May 13th will be the opening movement workshop where will have an Ecstatic Dance Journey (7-9pm)
~Saturday & Sunday May 14th & 15th will be a deep dive dance immersion into moving with the earth elements and the elements of intimacy with you and your body.
~Saturday will explore dancing with elements of the Earth, activating your power and fire. Dancing with the Nature spirits. You will be introduced to your spirit guides through meditation exercises and we will journal throughout the day.
~Sunday will explore dancing with sensualness, intimacy, trust, and dancing with your orgasmic energy. You will be lead through Orgasmic embodiment meditations and we will have time for journaling and oracle cards.
**You can choose to attend Friday night May 13th only for $55**
Friday Night Ecstatic Dance May 13th, 7-9pm Pay Here: https://www.amyshine.net/offers/Ne8dq5uz
**If you are attending the whole weekend, Friday night is included in the whole weekend ticket with all day Saturday & Sunday (10am-5pm) May 13th & 14th. Early Bird Price (before May 1st) $349
After May 1st Price at Door: $430
Find all the different options of attending this Weekend Immersion here: https://www.amyshine.net/intimacy
Friday Night May 13th Introduction to Weekend Workshop
Millennium Dance Complex Nashville 2844 Logan St, Nashville, TN 37211
Ecstatic Dance – 3 Simple Guidelines
1. We Dance without shoes (or: We Dance Barefoot)
This allows us to connect more fully with the Ground (socks are OK)
If you have a physical condition that you need dance shoes, then OK
2. We Dance without words (or: We Dance with Body Language)
This makes it easier to be in a Meditative State
3. We Dance as We Are
No Drugs/Alcohol, No Phones, No Camera/Video, No Scents, No Expectations, No Judgements, No Shoulds, No Oughts… Just Be Yourself; With Respect for Ourselves, the Space, and One Another.