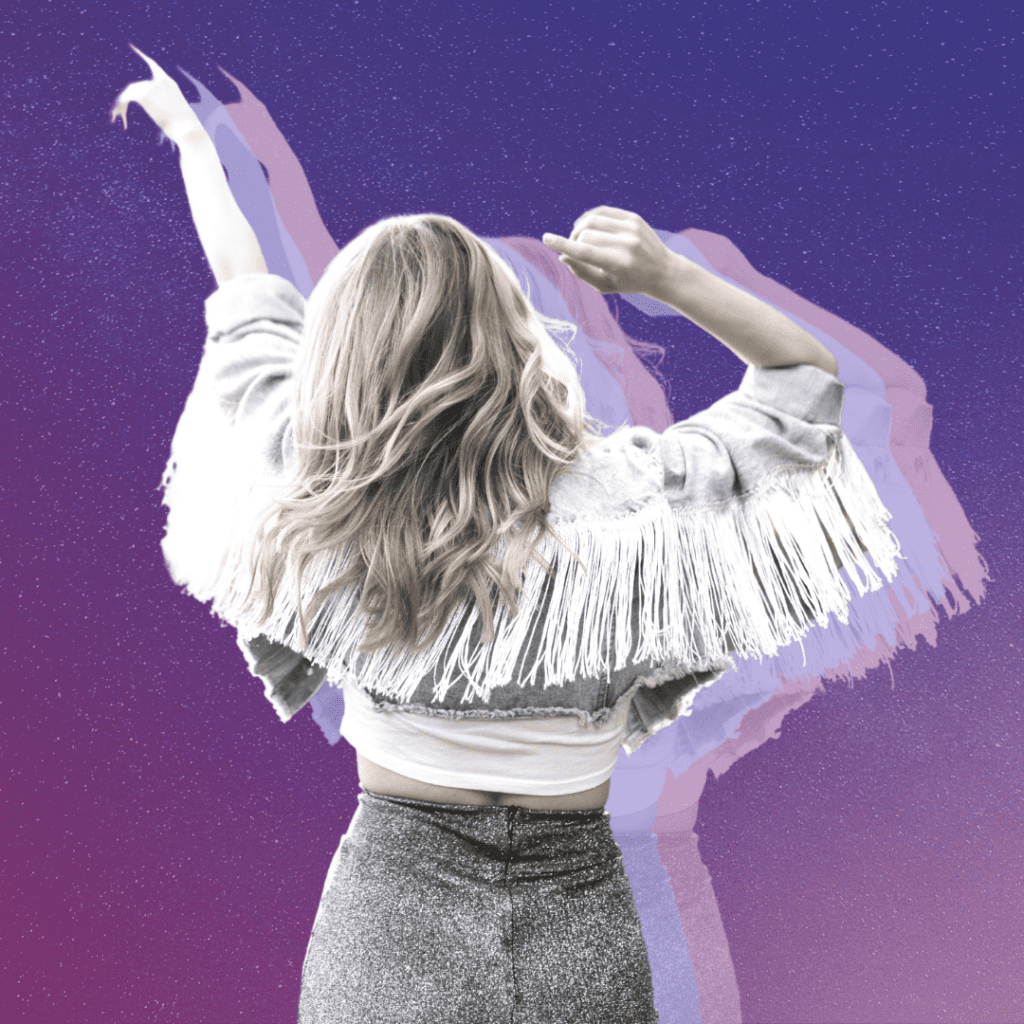 Goddess Night Out

hosts monthly women's ecstatic dance events in alignment with the cycles of the moon. Our goal is to create an empowering space for women of all ages, races, and backgrounds to come together to connect with each other– and more importantly, to connect with themselves.

Goddess Night Out

is for any woman looking to build sisterhood and find freedom in her own body. This monthly event is created by powerful women, for powerful women. It's a space to gather, connect, and dance together under the light of the full moon. 
ALL INFORMATION ABOUT OUR UPCOMING EVENTS CAN BE FOUND ON OUR GODDESS COLLECTIVE CALENDAR.
FORMAT:
Workshop: 6:30 – 7:45
Each Goddess Night Out event starts with an embodiment workshop. We collaborate with different teachers each month to bring in new movement methods and holistic practices that align with the astrological energy of each full moon. We'll also work with a different goddess each month.
Opening Circle: 8:00 pm – 8:10 pm
We open each dance party with an intentional circle. Anyone with a ticket can join this portion of the event. This will start promptly at 8:00 and doors will be locked until free dance begins so the circle is not disturbed. This is an opportunity to connect with fellow goddesses. Together, we'll set intentions, hype each other up, and begin to move our bodies as our DJ slowly brings up the energy until we're in full-blown dance mode!
Ecstatic Dance: 8:10 pm – 9:30 pm
Goddess Night Out in full swing! This is your time to let loose and unleash your inner-goddess! We'll also have designated areas to take water breaks, pull oracle cards, shop local vendors, and connect with other women in our community.
Closing Sound Bath: 9:30 pm – 9:45 pm
We close every Goddess Night Out with a healing sound bath. There will also be opportunities to journal and reflect with the women you connected with on the dance floor.
*We also partner with different female DJs, women-owned businesses, and facilitators each month to create new connections within our community and give a platform to a variety of creators.
the Friday or Saturday closest to the Full Moon
887 57th Street, Ste. B, East Sacramento, 95819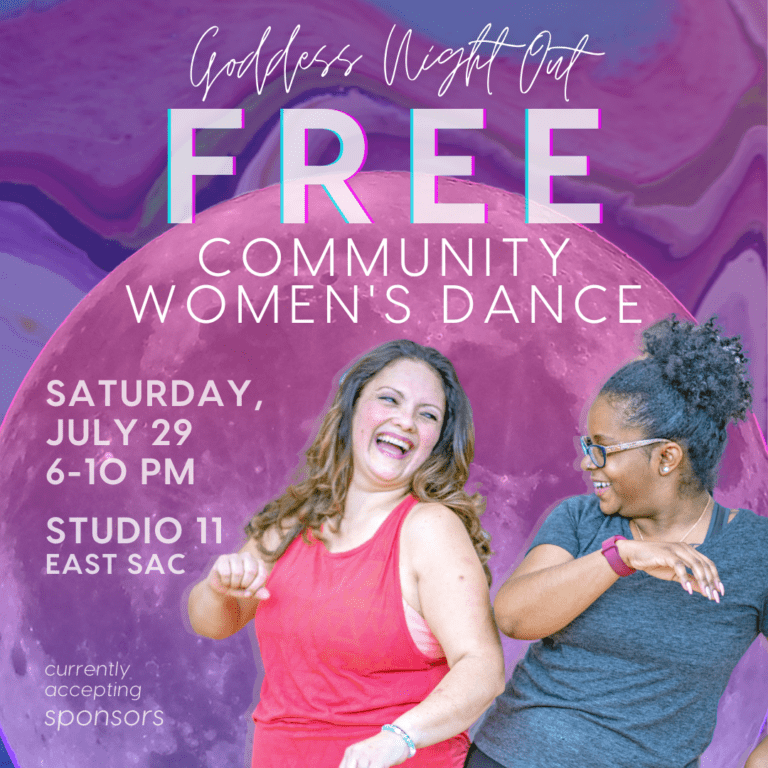 July 29, 2023
FREE COMMUNITY DANCE
September 1, 2023
PISCES FULL MOON DANCE
September 29, 2023
ARIES FULL MOON DANCE
October 28, 2023
TAURUS LUNAR ECLIPSE DANCE
November 11, 2023
ALL GENDERS UNITY DANCE
December 1, 2023
GEMINI FULL MOON DANCE
BE CLEAR. WE ENCOURAGE ENJOYING THIS EVENT SOBER.
Dancing can be a euphoric experience on its own, which is why we encourage women to come to the event without being under the influence of drugs or alcohol. Non alcoholic refreshments will be available at the event. But above all, this is a no-judgement zone. Come as you are and as you feel most comfortable letting loose.
BE EMBODIED. WE ENCOURAGE NON-VERBAL COMMUNICATION ON THE DANCE FLOOR.
We've curated other spaces at our event specifically for connecting with other women, pulling oracle cards, and discovering new female-owned businesses. The dance floor is the place to get out of our mind and into our body. We encourage you to try communicating through movement instead.
BE PRESENT. RECORDING PHOTOS + VIDEOS IS NOT ALLOWED ON THE DANCE FLOOR.
Cameras and phones will be allowed for 5-minute windows at the top of the hour and the half hour for anyone who wants to take photos, videos, or share to social media. Anyone who does not want to be on camera is welcome to leave the floor and take a water break. Making this environment feel safe for all women is of the utmost importance and we honor those who don't feel comfortable dancing on camera. We will also designate specific areas for fun photo opportunities throughout the event!
BE GROUNDED. NO SHOES ALLOWED ON THE DANCE FLOOR.
We want you to feel grounded and connected to the earth as you dance with your fellow goddesses.
BE FREE. THIS IS A NO JUDGMENT ZONE.
Goddess Night Out™ is a space for full embodiment and expression. Allow your body to move however it feels best. Judgment of other goddesses will not be tolerated.